What to Do with Your Family in Pisgah National Forest
Pilot Cove is your gateway to unforgettable family adventures in the heart of Pisgah National Forest. Nestled among breathtaking scenery and abundant natural wonders, Pilot Cove offers a perfect blend of comfort and excitement for families seeking to create lasting memories.
Discover Endless Family Fun in Pisgah National Forest
Pisgah National Forest is a treasure trove of family-friendly activities and attractions. Immerse yourselves in nature by enjoying scenic hiking trails, cascading waterfalls, and the lush forests of the Blue Ridge Mountains. Experience the thrill of outdoor adventures like mountain biking, fishing, and rock climbing. And after a day of exploration, retire to the comfort of Pilot Cove's well-appointed accommodations to prepare for another day of adventure.
Explore the Beauty of the Western North Carolina Mountains
Hiking and Trails: Pisgah National Forest offers a variety of hiking trails for all skill levels, from easy to challenging. Discover waterfalls, observe wildlife in their natural habitats, and marvel at the stunning mountain views. Some recommended trails for families include the kid-friendly Pink Beds Loop Trail and the awe-inspiring Looking Glass Rock Trail, for older or more experienced hikers..
Waterfalls and Swimming Holes: Cool off during the warmer months by exploring the numerous waterfalls and swimming holes in the area. Sliding Rock, a natural rock waterslide, offers thrilling aquatic fun for all ages. Dupont State Recreational Forest, also located nearby, boasts stunning waterfalls like Triple Falls and Hooker Falls, where you can take refreshing dips and enjoy picnics by the water.
Wildlife Encounters: Pisgah National Forest is teeming with diverse wildlife, making it an exciting destination for animal enthusiasts. Embark on a family-friendly wildlife spotting adventure, keeping an eye out for deer, wild turkeys, black bears, and various bird species. The Cradle of Forestry in America, located within Pisgah National Forest, offers educational exhibits and guided tours that delve into the region's rich ecological heritage.
Mountain Biking: For families seeking a thrilling outdoor adventure, Pisgah National Forest is a mountain biker's paradise. The forest features an extensive network of trails catering to different skill levels. Whether you're a beginner or an experienced rider, there are trails suited for everyone. Pedal through lush forests, conquer challenging terrains, and relish the adrenaline rush that mountain biking provides.
Water Sports and Fishing: Pisgah National Forest offers abundant opportunities for water sports and fishing. Rent a tube and float the Davidson River, or try your hand at fly fishing for trout. Engaging in these activities allows families to connect with nature while fostering a sense of adventure.
Blue Ridge Parkway: The Blue Ridge Parkway, the National Scenic Highway with an incredibly picturesque section winding through the Appalachian Mountains, is just a short drive from Pilot Cove. Take a scenic drive, go for a hike, enjoy a waterfall, or enjoy one of the many scenic overlooks.
Create Lasting Memories at Pilot Cove
Pilot Cove is the perfect home base for your family's Pisgah National Forest adventure. With a variety of comfortable accommodations, convenient amenities, and stunning scenery, Pilot Cove ensures a memorable and relaxing stay.
Accommodations: Pilot Cove offers a variety of accommodations to suit your family's needs, from studio to one- to two-bedroom modern cabins. All accommodations are well-appointed with a full kitchen, washer and dryer, mudroom, and beautiful deck that feels like a treehouse, providing a comfortable and inviting space to unwind after a day of exploration.
Scenery: Pilot Cove is nestled just outside the entrance to Pisgah National Forest and a short drive from downtown Brevard, NC. Your adventures await just outside your door!
Start Planning Your Family Getaway Today!
Pilot Cove and Pisgah National Forest offer a world of possibilities for family-friendly fun and unforgettable memories. Whether you're seeking outdoor adventures, natural wonders, or simply a relaxing escape, Pilot Cove is the perfect destination for your next family vacation. Visit our website to learn more about our accommodations and amenities, and to book your stay today!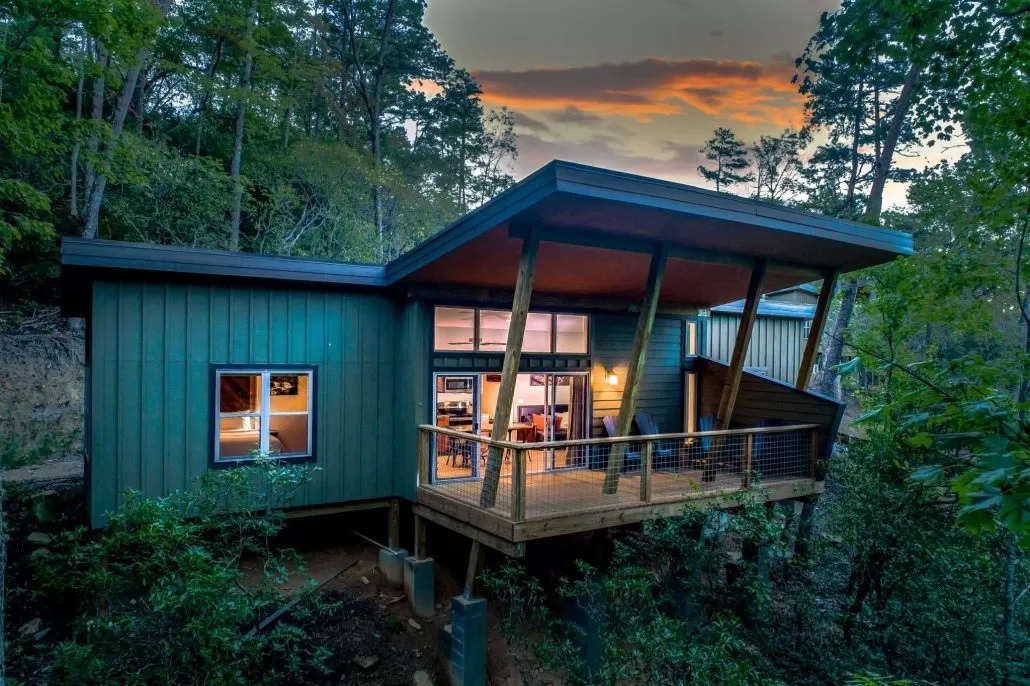 https://www.pilotcove.com/wp-content/uploads/2016/11/Pilot-Cove-Forest-Lodging-Family-Hiking-Rental-Near-Asheville-18.jpg
1000
1500
collinoberry
https://www.pilotcove.com/wp-content/uploads/2023/10/PC_logo_100_2x.png
collinoberry
2023-09-27 14:13:55
2023-10-16 14:31:43
What to Do with Your Family in Pisgah National Forest