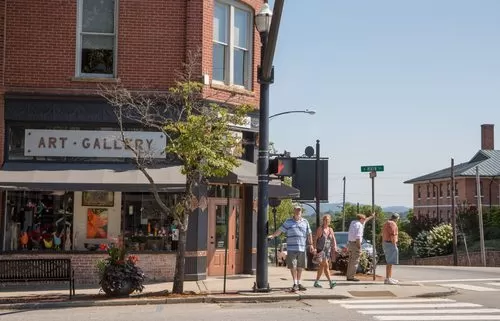 Guide to Downtown Brevard NC!
Guide to Downtown Brevard, North Carolina
Brevard NC is truly one of the most extraordinary places to visit in North Carolina. Situated in the heart of beautiful Transylvania County, Brevard offers excellent access to some of the most incredible nature attractions in North Carolina and the Southeastern United States. Of course, Brevard isn't just about enjoying singletrack trails, mountain vistas, countless waterfalls, and white squirrels – the Downtown area offers plenty to enjoy on your visit!
The Authenticity of Downtown Brevard
When you first arrive, you may be a bit surprised at how quaint the downtown area is and what it provides. In fact, you may adjust your plans to spend even more time in Downtown Brevard!
You'll discover some incredibly unique boutiques in the downtown area, but the shopping experience doesn't end there. Many of the best antique shops in the area are located downtown, along with plenty of other choices for your shopping needs. From children's toys to salvaged furniture – many shopping options are at your discretion!
In addition to shopping, you'll find some incredible restaurants downtown. Brevard also provides an amazing live music scene with plenty of venues including the Brevard Music Center and 185 King Street. There's no shortage of things to enjoy and the downtown area is sure to offer you a number of pleasant surprises.
History of Brevard
Brevard, NC has a deep history, starting with the Cherokee Tribe. The Tribe inhabited the area, using the Estatoe Path as a trading route from Transylvania County into South Carolina. In the early 1800s, Transylvania County was settled by Scots-Irish immigrants who chose the area for the abundance of natural resources and very rich soil. Many of the first settlers to the area were farmers and many of the forests found near Brevard today were actually farmland centuries ago.
In 1861, Transylvania County was established and the population has grown enough that a town near Rock Springs was created. The new town that was created was named Brevard, which was a tribute to Ephraim Brevard, a Surgeon during the American Revolution. Brevard College was founded in 1853, and relocated to it's current location in 1934.
The areas also saw plenty of growth when the Transylvania Railroad was established in 1899. The railroad brought passengers from Brevard to Hendersonville and allowed some of the wealthiest families to vacation at Lake Toxaway. Many industries became profitable because of the railroad and the tourist traffic.
Today Brevard has grown into the hub of Transylvania County, offering a quant small town charm with an eclectic mix of locals and mountain culture.
Things to do in Downtown Brevard, NC
While the charm of Downtown Brevard is found within the incredible restaurants and boutique shops, there are plenty of attractions to enjoy throughout the area, as well. Some of the top attractions found around Downtown Brevard include:
The Brevard Music Center
Paul Porter Center for the Performing Arts
Brevard College
Shops
Restaurants
Art Galleries
And More!
The surrounding area also offers a ton of attractions, including some of the best antique and pottery galleries in the Southeast US. Throughout the year, Downtown Brevard also plays host to a number of excellent events including the White Squirrel Festival, the July 4th Celebration, Halloweenfest, Mountain Song Festival, and the Christmas Parade & Twilight Tour. Downtown Brevard is home to WSQL 102.1, also known as White Squirrel Radio. Be sure to tune in to the station during your visit!
Shopping in Brevard
While you may come to Brevard for Pisgah National Forest or the Brevard Music Center, you'll likely discover some of the incredible shops found throughout Downtown. One of the most unique shops is OP Taylors Toy Store, offering children and families delight for many years through wonderful toys. It's located at 16 South Broad Street.
Another very popular place for shopping is DD Bullwinkel's. This is an old-fashioned general store with all kinds of local wares and sportswear brands throughout. It's a great place to get outfitted for a hike or to pick up your souvenir. The shop is found at 50 South Broad Street.
Some of the other shops found throughout the downtown area include:
Dragonfly Gallery
Gravy on Main
Theophilus
Hunters and Gatherers
Local Color
DD Bullwinkel's Outdoors
And Many More!
There are several gift shops, a few tea and coffee shops, and plenty more to enjoy throughout Downtown Brevard.
Restaurants in Downtown Brevard
Of course, after a long day of shopping or exploring the vast Pisgah National Forest, you'll want to grab a meal! Downtown Brevard is home to some incredible restaurants with choices ranging from casual to fine dining. You'll find pizza and sandwich shops, along with bars, grills and even a few specialty cafes.
Some of the top choices for dining in downtown include:
The Square Root Restaurant
Marco Trattoria
Quixote Fine Cuisine
Rocky's Grill & Soda Shop
Dolly's Dairy Bar & Gift Shop
Henry's of Brevard (morning biscuits!)
Mayberry's Soups and Sandwiches
Bracken Mountain Bakery
Jordan Street Café
Big Mike's Pizza
Wine Down on Main
Blue Ridge Bakery
Papa L.E.W.
Kilwins
And more!
Rocky's Grill & Soda Shop is one of the oldest spots in downtown for a meal. They offer a 1950's style soda fountain with a menu filled with burgers, hot dogs and more. The one thing Rocky's is known for over everything else is their unique ice cream sundaes.
In addition, the area surrounding downtown Brevard is home to a number of breweries, including Brevard Brewing Company, Oskar Blues Brewery, and Peaks and Creeks Brewery.
Visiting Downtown Brevard, NC
When you arrive in Brevard, you may have an itinerary filled with waterfall hikes and other outdoor activities. While this is an excellent way to enjoy the area, don't forget to plan some time for to enjoy downtown! From dining, to shopping, to live music, there's plenty to enjoy in Downtown Brevard. Please be sure to check out the Heart of Brevard for a list of authentic locally-owned businesses to explore during your visit!
https://www.pilotcove.com/wp-content/uploads/2018/02/shutterstock_702920791-small.jpg
334
500
collinoberry
https://www.pilotcove.com/wp-content/uploads/2023/10/PC_logo_100_2x.png
collinoberry
2018-02-01 22:18:47
2023-10-16 13:50:59
Guide to Downtown Brevard NC!