Guide to the Blue Ridge Parkway near Pilot Cove!

The Blue Ridge Parkway is among the greatest treasures in Western North Carolina, not to mention one of the most sought-after tourist destinations in America. The 469-mile road stretches from North Carolina's Great Smoky Mountains National Park to Virginia's Shenandoah National Park. It's often dubbed "America's Favorite Drive," earning more than 15 million visitors every year. This is your guide to the Blue Ridge Parkway near Pilot Cove in Western North Carolina.
Some of those visitors are tourists from far-flung corners of the world, who choose to drive along the route and stop at a number of the stunning scenic overlooks. Others are locals who are always looking for new places to hike, camp, and explore. No matter who you are or what brought you to the Blue Ridge Parkway, this guide will provide you with ample ideas on how to spend your time once you're here. And best of all — all of these ideas are just minutes away from Pilot Cove! 
This guide focuses specifically on locations and activities closest to Pilot Cove, located between Highway 191 at Brevard Road and US 74 in Waynesville, North Carolina. This section of the Parkway is one of the most spectacular, reaching the highest elevations of any motor road in the Eastern US above 6000'.
A Brief History of the Blue Ridge Parkway
In 1933, President Franklin D. Roosevelt visited Skyline Drive in Virginia. At that time, the senator from Virginia, Harry Byrd, suggested connecting that site with the Great Smoky Mountains National Park in North Carolina. And thus, the Blue Ridge Parkway was born. Leaders from Virginia, North Carolina, and Tennessee came together to plan and fund the proposed highway.
Like any great idea, The Blue Ridge Parkway faced its share of controversy. The City of Asheville heavily protested the original plan, insisting that the parkway pass through their city to help their struggling economy. Eventually, they gained approval, and with a budget of $16 million, a combination of private contractors and public works programs were employed to make the parkway a reality. 
The project hit another snag when World War II struck; by the 1950s, only half of the Blue Ridge Parkway was completed. So the National Park Service launched Mission 66, a development plan to complete the highway by 1966. They were mostly successful, completing all but 7.7 miles. That final stretch, at Grandfather Mountain, was protested due to the risks to Grandfather Mountain's Terrain. After much negotiation, the Linn Cove Viaduct was completed in 1987, constructed in such a way that it protected the mountain's ecology. 
And thus, the Blue Ridge Parkway was completed!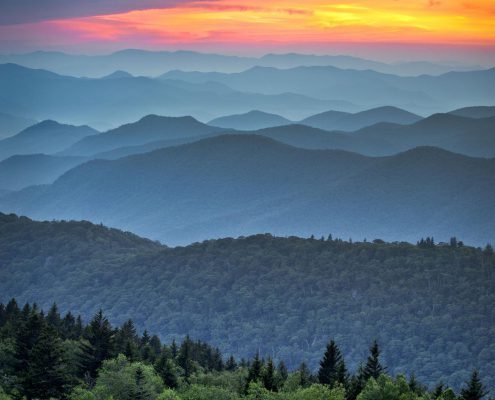 Stunning Views of the Blue Ridge Parkway
While many of the visitors to this area are outdoor enthusiasts, enjoying the Blue Ridge Parkway doesn't require strenuous outdoor activities. There are endless scenic overlooks along the parkway that are easily accessible by car. Scenic overlooks are an excellent place to take a break from the car, enjoy stunning mountain views, and practice your photography skills. In the busy season, you can also mingle with fellow Blue Ridge Parkway travelers. If you're looking for a place to relax and enjoy the scenery, look no further than any of these incredible overlooks: 
Beech Gap Overlook

Cherry Cove Overlook

Chestnut Cove Overlook

Cradle of Forestry Overlook

Cowee Mountains Overlook (incredible views!)

Devil's Courthouse

East Fork Overlook

Forest Heritage National Scenic Byway

Graveyard Fields Overlook

Log Hollow Overlook

Looking Glass Rock Overlook

Pink Beds Overlook

Pisgah Ledge Overlook

Pounding Mill Overlook

Richland Balsam Overlook — The highest point on the parkway! 

Wagon Gap Road Overlook
Bonus: If you fall in love with the view and want to stay overnight, these overlooks (and many more like them) are mere minutes from some of the region's best lodging, including Pilot Cove.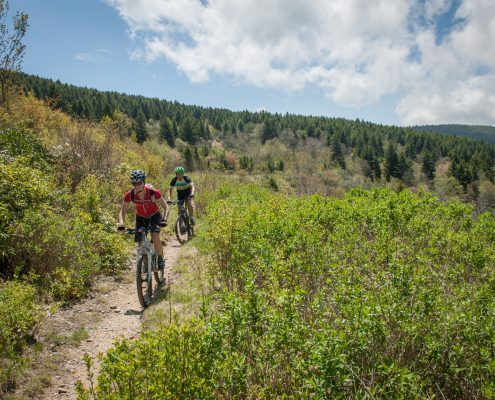 Hiking the Blue Ridge Parkway near Pilot Cove
The Blue Ridge Parkway offers access to hiking trails that are suitable for everyone from families and beginner hikers to experienced explorers. Whether you're looking for an easy 1-mile route or the starting point for a long-distance trek, the Blue Ridge Parkway has plenty of options for you. Here are some of our favorites: 
Buck Springs Trail: If you're looking for a moderate challenge, Buck Springs Trail could be for you. It's a 6.2-mile trek one way with moderately steep climbs. It culminates at the Mount Pisgah parking area, from which you can reach the apex of Mount Pisgah or continue on to Asheville from the Shut-In Trail. It is intersected by Barnett Branch and Section 2 of the Mountains to Sea Trail. 
Mount Pisgah Trail: Despite being a much shorter trek than Buck Springs Trail (just over 2 miles round trip), it's not an easy hike. However, the steep, rocky climb to the summit of Mount Pisgah is well worth the effort. The path is rife with colorful flowers, and the views from the top are breathtaking. It's one of the most popular hikes in the region, and Mount Pisgah is one of the most historically significant peaks in Western North Carolina.
Fryingpan Mountain Tower Trail: This 1.5-mile round-trip hike is gentle but continuously steep, making it a moderate choice. During spring and summer, the trail is ablaze with wildflowers and blueberries, adding charm and color to the path. And from the peak, there are stunning views of Fryingpan Mountain and the surrounding area. The historic fire lookout tower at the top is a popular tourist destination and adds to the scenery. 
John Rock Hike & Cedar Rock Falls: The John Rock Hike is a 5-mile loop, with a longer entry and a shorter return trip. The hike ascends about 1,000 feet to a summit of 3,320 feet, and include not only scenic wildflowers but also access to Cedar Rock Falls along the way. It intersects with several other trails and is close to many other trails and swimming holes. You can access it from the John Rock Hike Parking Area.
Mountains to Sea Trail: For the most experienced adventurers, the Mountains to Sea Trail offers a long-distance hiking option all the way from the Blue Ridge Parkway to the Outer Banks. The trail is over a thousand miles long (1,175 to be exact), so unlike the other options here, it's certainly not suitable for a day trip! However, sections of the trail are accessible from the Blue Ridge Parkway if you want to explore the early trails, and they intersect with other nearby trails, allowing you the freedom to spend as much (or as little) time as you want.
Devil's Courthouse: For those seeking a family friendly short hike with incredible views, don't miss Devil's Courthouse! Follow the paved trail from the parking area to the summit to enjoy sweeping vistas over the surrounding mountains. There is a lot of history and folklore here too, including the Cherokee legend spoken to early mountain settlers about the devil holding court in a cave within the mountain.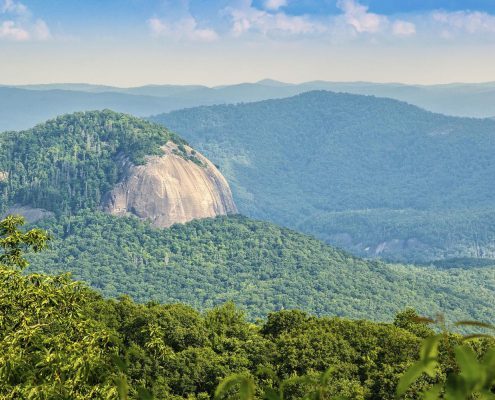 Camping Along the Blue Ridge Parkway near Pilot Cove
For those who can't get enough of the scenery, there is no better way to enjoy nature in all its splendor than by camping at the Mount Pisgah Campground. It's one of the top-rated campgrounds in the nation, and it offers 125 campsites – some of which require reservations and many of which are available for walk-ups. You can camp with tents or RVs, depending on your preference – and you can camp solo or with large groups. The campsites come with fire pits and access to bathrooms and showers to make your stay as enjoyable as possible. The campground also has access to swimming holes, hiking trails, and local accommodations such as restaurants and museums. The peak season runs from May to October, so expect plenty of other campers within those months, and reserve your spot ahead of time if possible.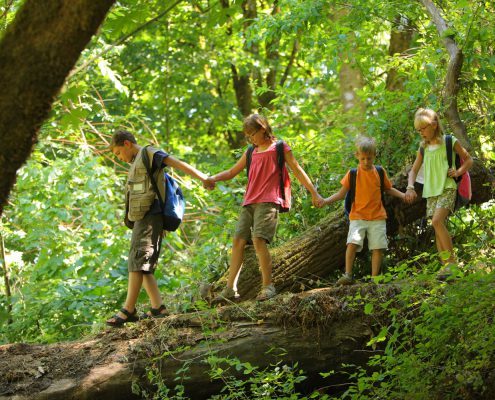 Family-Friendly Activities on the Blue Ridge Parkway near Pilot Cove
There are many family-friendly options for recreation along the Blue Ridge Parkway, including many of the hiking trails and scenic overlooks we discussed above. 
If your family loves to swim, check out local attractions such as Moore Cove Falls, Looking Glass Falls, Skinny Dip Falls, and Sliding Rock. 
You can also access numerous educational resources, such as the Cradle of Forestry in America Heritage Site, which celebrates early forestry and conservation efforts in this region. You can look about environmental stewardship and sustainability through educational exhibitions, art and drama performances, guided tours, crafts, and more. 
And just a short drive away is the Blue Ridge Parkway Visitor Center, which teaches visitors about the history and cultural significance of the Blue Ridge Parkway. You can tour the Green Building known for its cutting-edge conservation technology, and they even have a theater that shows The Blue Ridge Parkway – America's Favorite Journey. The film will give you a closer look at parts of the parkway you may not have been able to see otherwise. 
There are many reasons to visit the magnificent Blue Ridge Parkway, and no matter what type of traveler you are, we guarantee that you will find something to love about this place. Come see us at Pilot Cove, and we can point you to even more local treasures!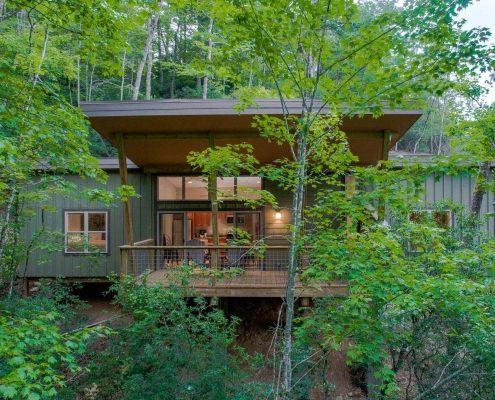 https://www.pilotcove.com/wp-content/uploads/2019/08/Pilot-Cove-Forest-Lodging-Road-Bike-Blue-Ridge-Parkway-Asheville-NC-17-1030x687.jpg
687
1030
collinoberry
https://www.pilotcove.com/wp-content/uploads/2016/11/trans-logo-2.png
collinoberry
2019-08-22 09:07:31
2023-02-05 22:11:04
Guide to the Blue Ridge Parkway near Pilot Cove!