Hardest Trails in Pisgah National Forest
The Pisgah Ranger District near Pilot Cove and Brevard, North Carolina includes a variety of hiking and mountain biking trails from easy to moderate to difficult, family-friendly to technical. This is a guide to the hardest trails in Pisgah National Forest near Pilot Cove. These trails require you to use your best judgment in determining whether they are safe for you. Never go above your skill and comfort levels, especially when mountain biking! There are plenty of other options to choose from around Pisgah National Forest for novice and intermediate riders.
Farlow Gap
Length: 3.3 miles one way
Approximate Elevation Gain: 1,300 feet
A trip for the advanced hiker or rider, the Farlow Gap route is considered one of the most difficult trails in Pisgah National Forest. Advanced riders seek this trail out for its technical rock gardens, stream crossings and beautiful views. If you're not an advanced rider, this mountain bike ride isn't for you! Parking for this ride is at the Fish hatchery near the Looking Glass Rock trailhead, about a 10-minute drive from Pilot Cove.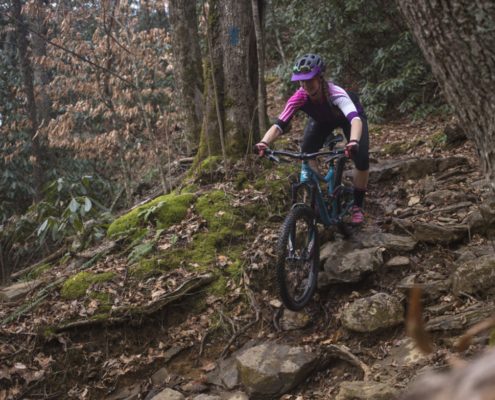 Art Loeb Trail
Length: 30.1 miles
Approximate Elevation Gain: 3,000 feet
The Art Loeb trail is one of the longest and most difficult trails in North Carolina, and it's also a popular one! Hiking this trail will mainly involve peaks and ridges rather than valleys, which means many views along the way. This is undoubtedly some of the most beautiful scenery in Pisgah National Forest. There are many campsites along the Art Loeb trail, which makes it a popular choice for multi-day backpacking trips. Day hiking sections of the trail is also a great way to get out in Pisgah if you enjoy more challenging hikes.In winter the access is more difficult as the Blue Ridge Parkway is closed, rewarding the brave few that make the trek with solitude and natural beauty.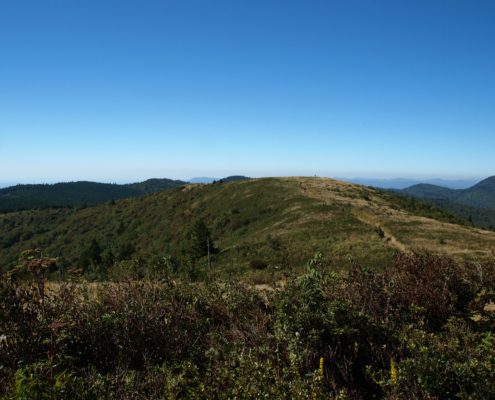 Shining Creek Trail
Length: 6.8 miles
Approximate Elevation Gain: 2,300 feet
This steep, challenging trail follows its namesake, Shining Creek, for most of its miles. You'll enjoy stream crossings, small waterfalls, rhododendron and mountain laurel along your journey. The trail ends with multiple options to reach Shining Rock Gap. Here, you can connect with the Art Loeb trail, Ivestor Gap, or Old Butt Knob, the last which can be used to create a loop hike.
Mountains-to-Sea Trail
Length: 1175 miles
Highest Elevation: 6,684 feet
Lowest Elevation: Sea level
The Mountains-to-Sea Trail (MST) is a footpath stretching almost 1,200 miles across North Carolina, from Clingmans Dome in the Great Smoky Mountains to Jockey's Ridge on the Outer Banks. North Carolina's "state trail" and its longest marked footpath, the MST passes through four national parks, two national wildlife refuges, three national forests, and more.
In the Asheville area, the MST roughly follows the Blue Ridge Parkway. Near Pilot Cove and Pisgah National Forest, this includes a 60-mile section from Mount Pisgah that stretches all the way to Craggy Gardens, northeast of Asheville. This is accessible along the Blue Ridge Parkway at Hwy 276 or 215. Hikers can enjoy some of the highest elevations on the MST when they section hike it along the Blue Ridge Parkway in this area.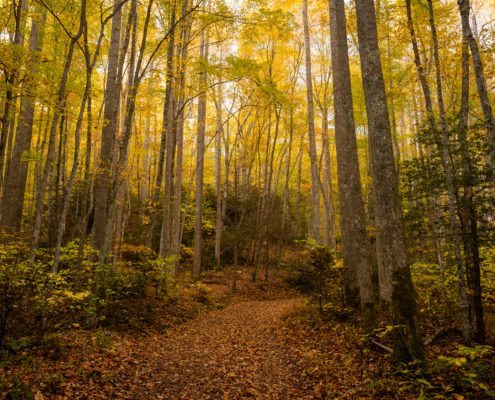 John Rock Loop Trail
Length: 4.9 miles
Approximate Elevation Gain: 1,255 feet
Starting at the Pisgah National Forest Fish Hatchery parking area, the John Rock loop hike takes you up to John Rock, with views overlooking the hatchery and across to a local favorite, Looking Glass Rock. The hike also passes the small but beautiful Cedar Rock Creek waterfall, as well as meadows that are dotted with wildflowers in the Spring. If you're looking for a heart-pumping climb and beautiful mountain views, you'll likely enjoy John Rock Trail. Be aware that the rock face on top of John Rock can be slippery, and be especially cautious of ice during Winter.
Pilot Cove/Slate Rock Trail
Length: 4.3 miles one way
Approximate Elevation Gain: 1,735 feet
This beautiful hike begins by meandering alongside Slate Rock Creek, with an easy to moderate grade and several stream crossings. Depending on the season, you'll enjoy moss, ferns, and wildflowers. There are several connector options. Some areas of the trail are steep, with a tough climb to the top. Some hikers use offshoot paths at the top of the ascent to witness outstanding views. If you've hiked clockwise, you'll want to note that you'll encounter Slate Rock, the most scenic area on the trail, when you've begun to head back downhill from the highest point on the trail. This trail is often combined with the Pilot Cove loop to make a fantastic loop hike.
Laurel Mountain Trail
Length: 7.4 miles one way
Approximate Elevation Gain: 1,800 feet
The Laurel Mountain Trail is a long, narrow, backcountry singletrack trail that climbs from Yellow Gap Road up to Buck Spring Trail. For hikers, some of the climb is gradual, although there are a few steep sections. Several unmarked trails join this one, so be on the lookout for trail blazes. This trail features hardwood forests, rock outcroppings, and a small cave. This is generally a quieter trail with little traffic. Many experienced mountain bikers enjoy the number of sharp and tough switchbacks, and technical rocky terrain.
For those looking to ride for many hours to tackle a challenging ride, the Laurel Mountain, Pilot Rock, Squirrel Gap mountain bike loop is a classic choice. This ride is only for advanced riders and will go for 25 miles. It will take most riders over 5 hours to finish. It's considered to be very difficult with steep, rocky descents off Pilot Rock.
Access for this bike ride is found on Turkey Pen Road off NC 280. You'll find access at the Turkey Pen Trailhead, which is very close to the Transylvania and Henderson County line. The trailhead is approximately 10 minutes from Pilot Cove.
https://www.pilotcove.com/wp-content/uploads/2022/02/pilotcoveslaterockloop.jpeg
375
500
collinoberry
https://www.pilotcove.com/wp-content/uploads/2016/11/trans-logo-2.png
collinoberry
2022-02-02 09:07:10
2023-05-18 11:40:58
Hardest Trails in Pisgah National Forest