Pilot Cove Second Saturdays – A Concert Series!
—–
—–
5 SHOWS, 15 AMAZING ACTS. AND ONE AMAZING SUMMER!
You are cordially invited to join us at the Pilot Cove Amphitheater for a 5 part concert series throughout the Summer! We've teamed up with our friends at EchoMix Entertainment to curate a talented lineup of bands to rock the Pilot Cove Amphitheater! These events are sure to be a fun experience for your family and friends alike. More information on dates and the lineup can be found below!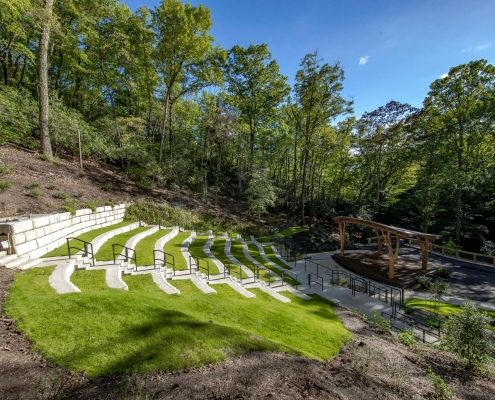 MAY 9 – WOMEN WHO ROCK
Second Saturdays Live kicks off on May 9th, the day before Mother's Day and will be focused on women in music, namely WOMEN WHO ROCK! This concert will feature a fabulous lineup, so don't miss it! Here's to the women who rock in your life!
JUNE 13 – CABARET BOOGIE
The Cabaret Boogie will be a theatrical, dancing exclamation of all things cosmic and otherworldly, ushering us into a land of early 20th Century imagination and dark romance.
JULY 11 – GRATEFUL DEAD MEETS RADIOHEAD
Crisscrossing genres can sometimes land you the best pairings! Grateful Dead Meets RadioHead is just that! Get down to your favorite Grateful Dead tunes and end the night rocking out to all your favorite RadioHead songs. This show features two beloved, high-quality tribute bands.
AUGUST 8 – REGGAE/ SKA DANCE CRAZE
If you can't make your way to the islands this summer, this show is for you! Reggae and Ska acts from all over the US team up for a non-stop dance party. You won't even miss the beach!
SEPTEMBER 12 – FUNK THROWDOWN FINALE
Nothing says Finale like a Funk Throwdown! Bringing in the funkiest acts from the region, we will make sure you don't want to rest until the throwdown is complete! This show features hot horn sections, high-energy percussion, gnarly bass licks, and soul stirring vocals. We know how to show up and show out for the end our first season!
—–
Please see below for more information, FAQs, and ticket link. Other questions? Email us at info@pilotcove.com!
—–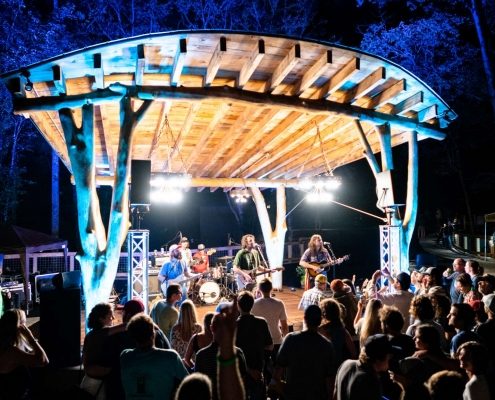 —–
When: May 9 2020, June 13 2020, July 11 2020, August 8 2020, and September 12 2020
Enjoy 3 sets of music each evening!
Tickets: $20
—–
Location:
Pilot Cove Amphitheatre, Brevard, NC
319 Gateway Junction Drive Pisgah Forest NC 28768
SEE BELOW FOR PARKING INFORMATION!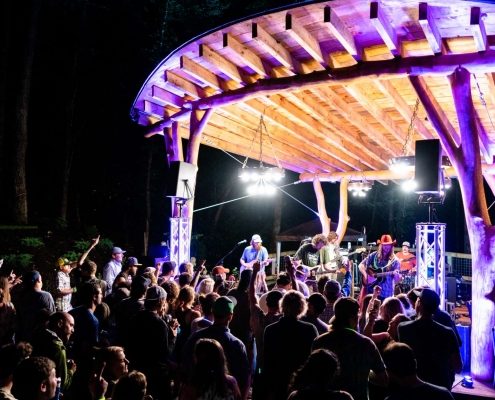 FAQs and Important Show Information 
Sponsorship and Vending
We are currently looking for local sponsors and vendors to partner with for the event series! These events will be an excellent way to engage with local community members and promote your brand to an engaged audience. More information about sponsorship packages and vending can be found here.
Pre-Show
Pilot Cove directly borders Pisgah National Forest, so concert goers are encouraged to explore the beauty of the forest! Click here for an activities guide for the nearby Davidson River area.
Ecusta Brewing Company is close and a great spot for pre show beers. Our neighbors at The HUB and Pisgah Tavern also have a full selection of beers to enjoy, their bar closes at 6pm.
Doors for the show open at 6:00 pm.
Parking
There is limited parking available at Pilot Cove. If the parking is full, please park at Ecusta Brewing Company, or at Wal-Mart and walk to Ecusta Brewing Company, or walk to the Pilot Cove Amphitheater. Aside from walking to the Amphitheater (1/3 mile from the HUB). We are coordinating a shuttle to and from Ecusta Brewing Company, stay tuned here for more information.
Tickets
CLICK HERE FOR TICKET PURCHASE LINK
Tickets can be purchased at this link. Tickets will be checked at entrance to Pilot Cove. When your ticket is checked you will be given a wristband.
Food & Water
There will be a food truck at the show! Attendees are encouraged to bring their own refillable water bottle.  Also reusable Pilot Cove bike water bottles will be for sale for $3. NO COOLERS WILL BE PERMITTED! Attendees may bring outside food and snacks, provided they are not in a cooler.
Alcohol
Beer, wine and non-alcoholic drinks will be sold by Ecusta Brewing Company. NO OUTSIDE DRINKS, ALCOHOL, OR COOLERS PERMITTED.
Overnight Stays
NO CAMPING IS PERMITTED AT PILOT COVE! Cabins for rent on property at Pilot Cove are available at this link.
Otherwise, accommodations can be found nearby at Hampton Inn, Holiday Inn Express, Davidson River Camprgound, or in Pisgah National Forest.
Chairs
Camping chairs, folding chairs, and seat cushions are permitted.
——————————
For any other questions please call 1-866-PLT-COVE or email us at info@pilotcove.com.