Swimming Holes Near Pisgah, Brevard, and Pilot Cove
Western North Carolina has some of the best swimming holes in the Southeast! There is nothing like cool, refreshing mountain water on a hot summer day. Within 45 minutes of Pilot Cove, you'll find many options for swimming in lakes, rivers, and even plunging into deep pools of water from a natural water "slide!" These are some of the best swimming holes in Pisgah National Forest, Brevard, off the Blue Ridge Parkway, and other places close to Pilot Cove.
Courthouse Falls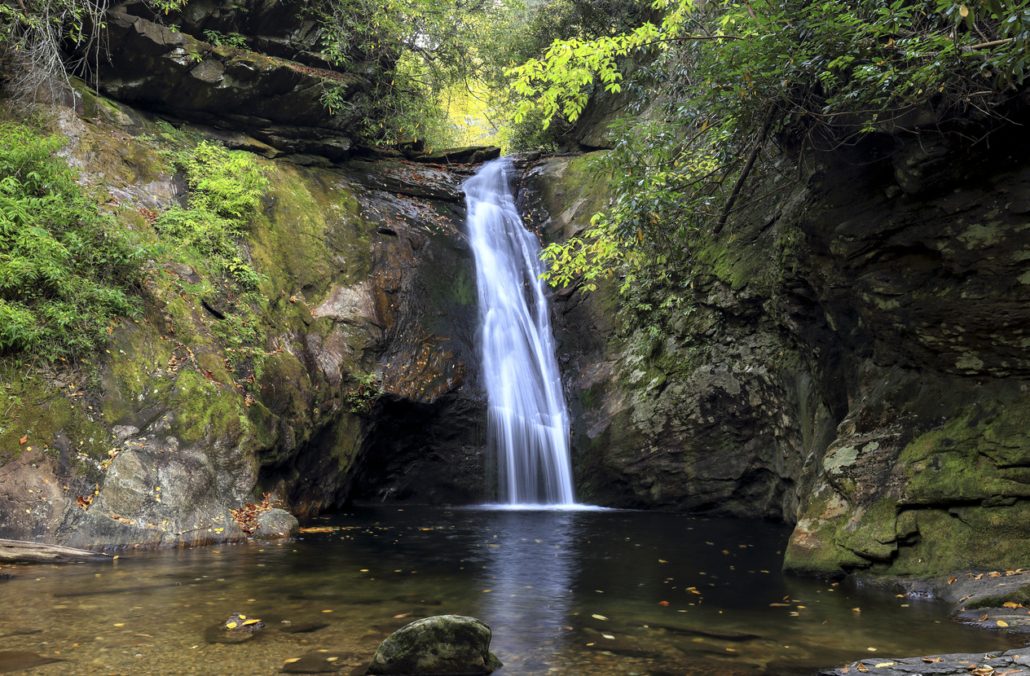 Pisgah Forest's Courthouse Falls is a 45-foot drop from a narrow chute into a deep pool large enough for several swimmers, making it a perfect clear mountain swimming hole for a hot summer's day! After less than a mile's hike, you'll be ready to take a dip. As a bonus, the mist from the waterfall keeps this area cool even in the middle of summer, which can be a welcome respite from the heat. If you're worried about being cold at this spot, we suggest you give it a try…it's one of the most beautiful waterfalls in the area.
Davidson River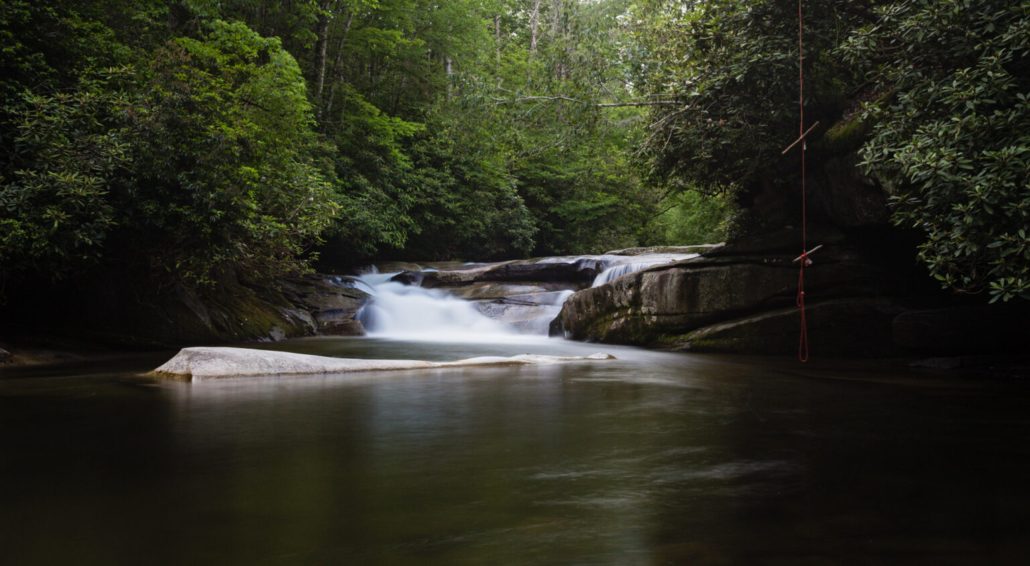 There are several spots along Pisgah Forest's beautiful Davidson River that are perfect for a rejuvenating swim. The Coon Tree Picnic Area is located just off 276 and is a refreshing place to either dip your toes or take a complete cold plunge! Another popular spot is Whaleback Falls, named for a rock that looks like a whale breaching. For a gentle tubing experience, you can even pick up one of the tubes for sale just down the road at Dolly's Dairy Bar.
Cove Creek
A remote waterfall with plenty of beauty to enjoy, Cove Creek is the reward at the end of a moderate 2-mile hike starting near the Davidson River campground. This is a fairly remote waterfall that makes a great swimming hole as well.
Looking Glass Falls
Located just 5.5 miles into Pisgah National Forest from Pilot Cove, Looking Glass Falls is one of the most photographed waterfalls in Western North Carolina. The cascade drops 60 feet into a pool that is a great swimming hole on warm days. Access is right off of 276 and allows handicap-accessible viewing for any in your party who may need it.
Moore Cove Falls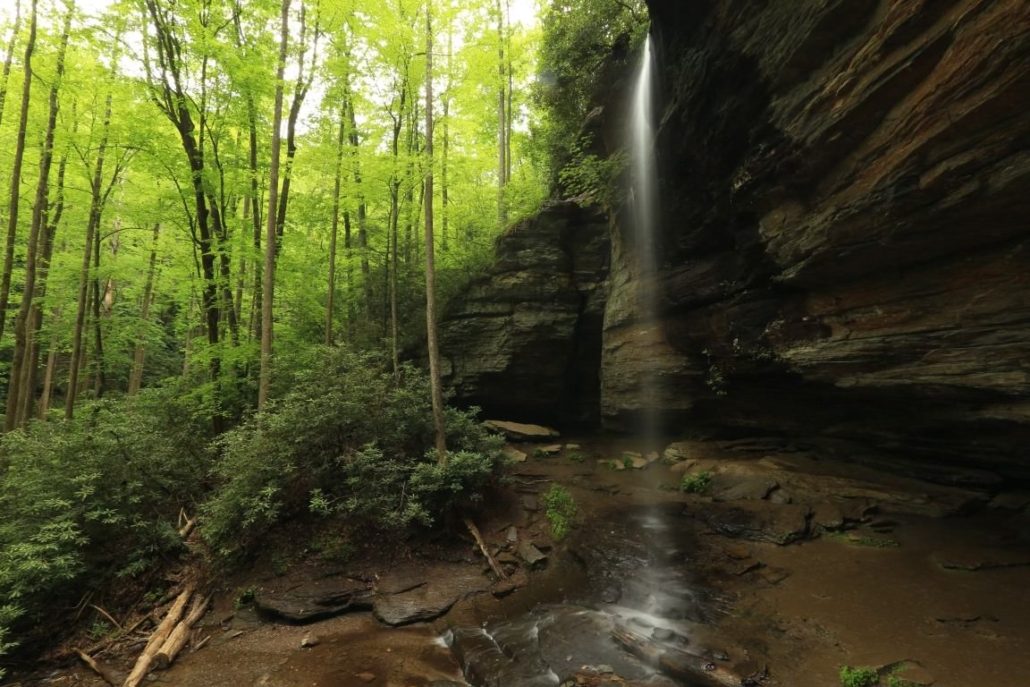 The trail to Moore Cove Falls is an easy, 1.5-mile, family-friendly walk to a waterfall you can walk behind! Located close to Looking Glass Falls, Moore Cove is an excellent place to stand under a cool waterfall for nature's cold shower!
Sliding Rock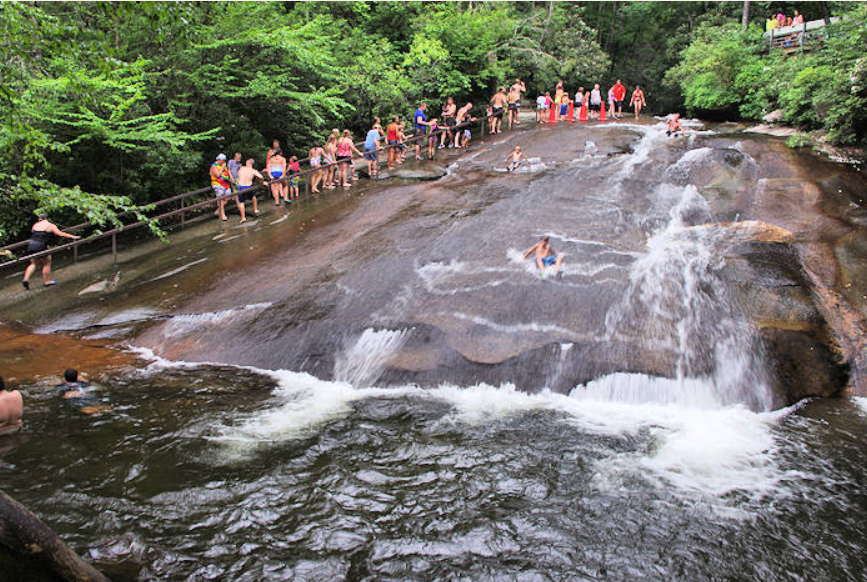 Located just 7.6 miles into Pisgah National Forest from Pilot Cove, Sliding Rock has been a favorite of generations of visitors to the area. The waterfall is a 60-foot natural rock slide into a small pool. It is the perfect place to cool off after a nice hike in the forest. Access is directly off 276 and provides bathrooms and changing rooms. A small fee is charged at the entrance to the parking area.
Skinny Dip Falls
You might find Skinny Dip Falls in a number of online guides to swimming in Western North Carolina, but sadly it was vastly affected by the record-breaking storms of 2021. While Skinny Dip Falls is no longer accessible, there are still great spots in the area to get cool along the stream. Access is off the Blue Ridge Parkway. The trailhead is located directly across the from Looking Glass Rock overlook.
Avery's Creek
It's just a 1/2 mile hike to the first waterfall on Avery's Creek! The trail up to the falls is very kid-friendly until it passes the top of the waterfall. From that point on, there is somewhat of a scramble to get down to the base and swimming hole, so be sure to consider what you and your family are capable of before accessing this refreshing natural pool!
Hooker Falls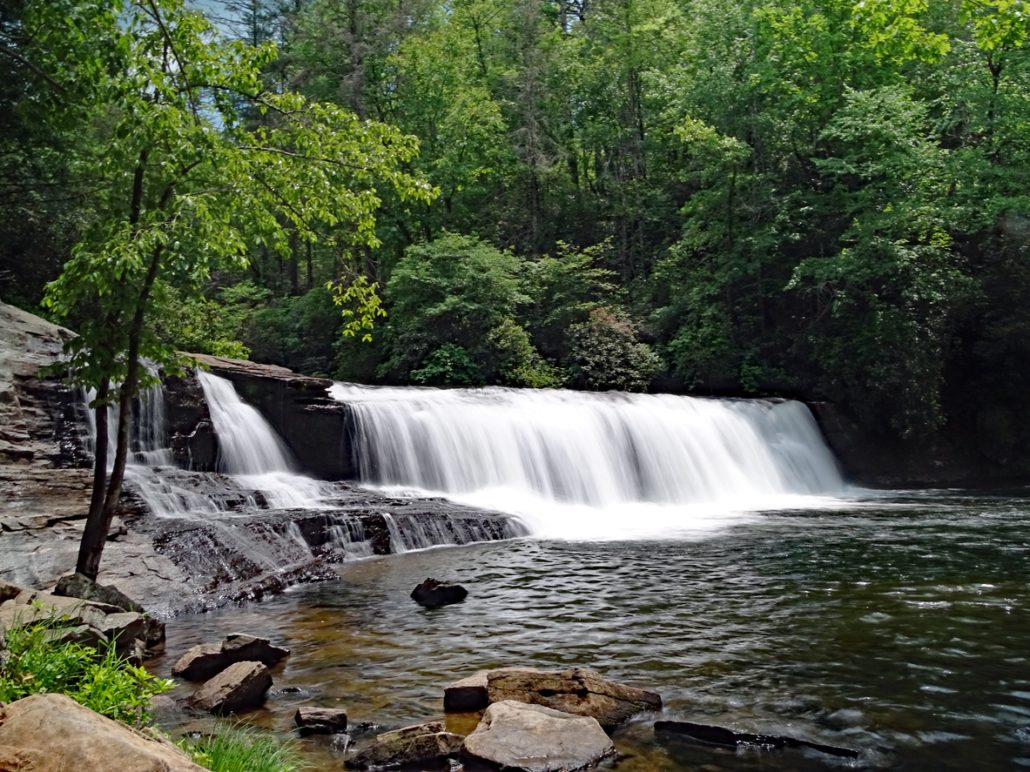 Hooker Falls is the fourth of the Little River Falls in DuPont State Forest. Although the waterfall itself only has about an 11-foot drop, it cascades into a beautiful pool of water and creates a popular place for swimming.
Graveyard Fields
Graveyard Fields, located just off the Blue Ridge Parkway, is an excellent hike as well as a wonderful place to enjoy some fun in mountain water at a higher elevation! There are several options here for enjoying a swim. First, and maybe the most popular, is to enjoy the cold pool of water below Lower Falls, which is accessible via a short and moderate hike accessible via mostly paved walkway and wooden decking.
Another option is to hike up to Upper Falls, which is arguably not as stunning of a waterfall but is often a little less crowded. Finally, many families enjoy playing in the water you'll reach first after descending the rhododendron-lined path that winds down from the parking lot. This is a popular spot for bringing the whole family and the short walk makes bringing a picnic spread easy and fun!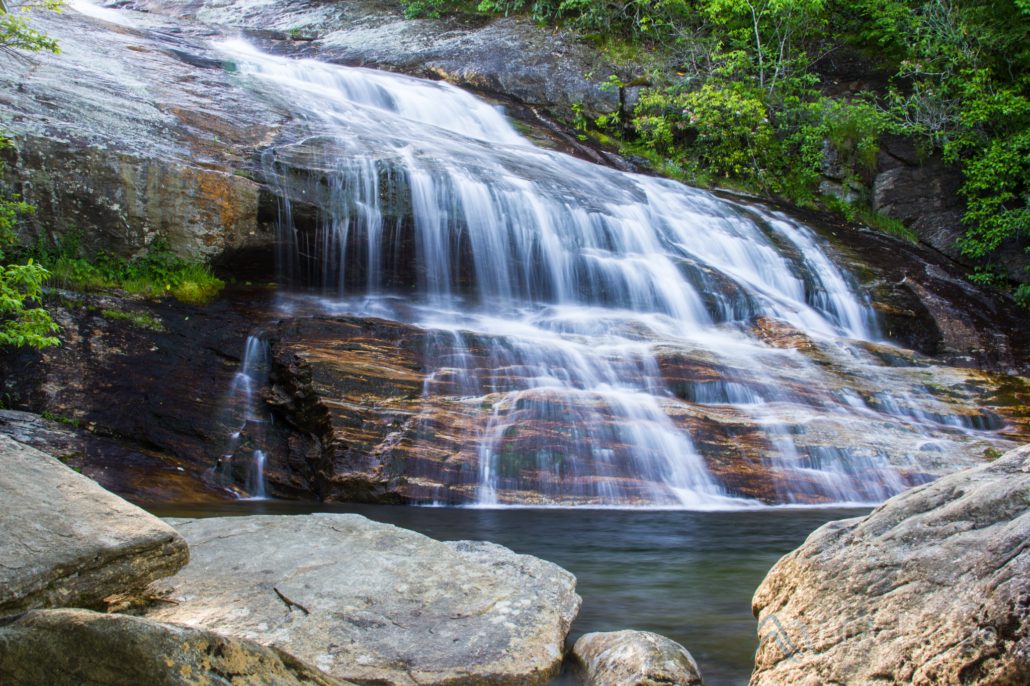 ---
Whenever visiting waterfalls or enjoying natural swimming holes, be sure to exercise caution and use your best judgment regarding safety. Rocks can be slippery and diving is never recommended.
https://www.pilotcove.com/wp-content/uploads/2022/06/courthousefalls.jpg
830
1264
collinoberry
https://www.pilotcove.com/wp-content/uploads/2016/11/trans-logo-2.png
collinoberry
2022-06-22 15:29:27
2023-02-05 21:46:24
Swimming Holes Near Pisgah, Brevard, and Pilot Cove