Davidson River | Pisgah National Forest | Visitors Guide

Davidson River & Pisgah National Forest
During every season, tourists and locals alike flock to Pisgah National Forest to take advantage of its famous hiking, fishing, road cycling, mountain biking, camping, and other outdoor recreation opportunities. Here, we're highlighting the Davidson River area of Pisgah National Forest, which is one of the most beautiful and popular areas to visit. Whether you're an experienced hiker, a novice fly-fisherman, or a family looking for the perfect camping spot (or anything in between), the Davidson River area of Pisgah National Forest has just what you're looking for. This area is especially popular because it is easily accessible via car from anywhere in the Southeast US, also it's only 20 minutes from the Asheville airport.
——————————————-
History of the Davidson River Area
In 1793, brothers Benjamin and James Davidson applied to purchase land from the State of North Carolina. The land along the French Broad River was finally sold to them in 1790, making the Davidsons some of the earliest settlers in Transylvania County. Benjamin built his home beside a river that flowed into the French Broad; that river came to be known as Benjamin Davidson's Creek, and then finally Davidson River.
Years later, as the area became more developed and more people settled down there, Benjamin donated land for a meeting-house that served as a church and a schoolhouse. Other locals created business, turning the region into a successful commercial center.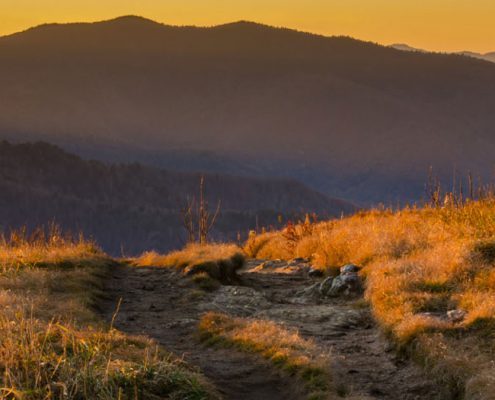 ——————————————-
Hiking Trails in the Davidson River Area
There are dozens of popular hiking trails in the Davidson River Area, and choosing which ones are right for you can seem overwhelming! HikeWNC is a great resource lets you search through trails by difficulty level, location, and trail features (such as waterfalls, family-friendliness, etc.). Some hikes cover one trail (a specific path), while others will cross multiple trails.
You might start at the Pisgah Ranger District Ranger Station and Visitor Center, where you'll find restrooms, a gift shop, exhibits, and ample parking. (Bonus: they carry maps!) You can access several trails from that point, ranging from easy hikes (such as the Andy Cove Nature Trail) to much more difficult hikes (like the Black Mountain Trail).
One of the most popular and beautiful hikes is the Looking Glass Rock trail, which is recommended for more experienced hikers. It's a 6.4-mile round trek with a steep climb and a 1,649-foot elevation gain. Other popular trailheads include The Pisgah Center for Wildlife Education and Fish Hatchery, Shining Rock, Black Balsam, and Graveyard Fields, to name a few.
Expert hikers will love the famed Art Loeb Trail, a 30.1-mile hike that has been rated by National Geographic Adventure as one of the best 30 hikes in North America. This challenging hike will reward adventurers with stunning views and an incredibly diverse landscape.
Looking for an easy hike? Check out the  the Moore Cove Falls Hike, the Estatoe Trail, or the Thrift Cove Trail.
Moderate hike choices include the Flat Laurel Creek Hike, the Devil's Courthouse Hike, the Avery Creek Trail, and the Buckhorn Gap Trail.
More difficult hikes for the adventurous types include the John Rock Loop Hike, the Farlow Gap Trail, and the Black Mountain Trail.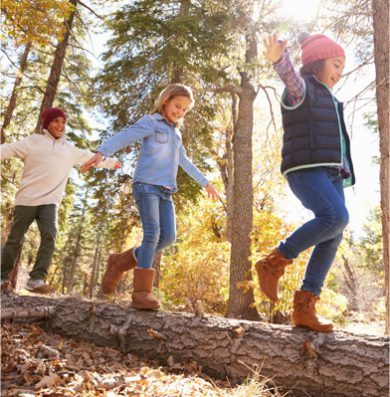 ——————————————-
Fishing in the Davidson River Area
The Davidson River is one of the most productive and popular fly fishing destinations in the Southeast. You'll find plenty of browns, rainbows, and brook trout in these waters! Despite the proliferation of fish, the river also poses a challenging fishing environment due to heavy fishing pressure, clear waters, and educated trout. No matter what kind of fishing you like to do, the Davidson River offers it, from highly sociable fishing alongside the crowded banks to solo fishing at the end of a hiking trail.
The Upper River, which consists of about 14 miles between the headwaters and Avery Creek, follows strict catch-and-release regulations for fly fishing only. The Middle River, near the Fish Hatchery, has many more larger trout, who benefit in size from the hatchery's output. However, these fish are also wise to the fishing game: they've adapted to frequent anglers by becoming extremely picky about what they eat — so make sure you choose fishing flies that match local prey species and place them carefully in the designated feeding lanes. For success in landing one of these prized trout, attention to detail and persistence are key!
The Lower River is the least crowded area of the Davidson River due to much of it flowing along private property. This portion of the river is home to copious mayflies, Green Drakes, Litobrancha nymphs, and caddisflies. The lower mile of the river is fully stocked during fishing season from local fly fishing outfits. Connect with Davidson River Outfitters for more information about fishing this stretch of the river.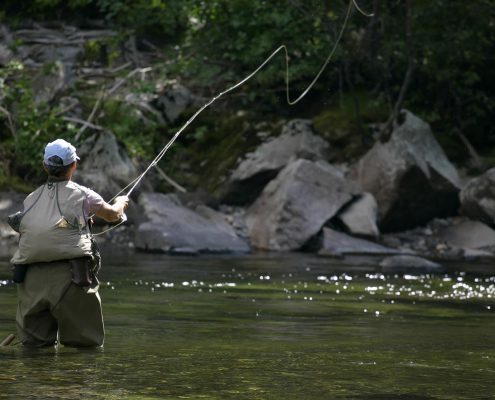 ——————————————-
Mountain Biking in the Davidson River Area
Much like hikers, mountain bikers love the Davidson River area for its ample trails and challenging terrain. From the Davidson River Campground, bikers can access the Sycamore Cove and North Slope trails (North Slope is seasonal). These are moderately difficult loops, which some bikers combine for a lengthier ride.
The Pisgah Ranger District Ranger Station and Visitor Center also offers access to several bike-friendly trails, including the Exercise Trail, the Thrift Cove Trail, and the Black Mountain Trail. Nearby, the Avery Creek valley connects several trails that can be combined to form loops, including Bennet Gap, Buckwheat Knob, and Buckhorn Gap. The Coontree Picnic Area accesses the Coontree Loop Trail, which bikers can access during the winter months.
Other nearby trails include the Cat Gap Loop and Butter Gap trails (accessible from the Pisgah Center for Wildlife Education and Fish Hatchery), and the Cove Creek and Daniel Ridge trails (near the Cove Creek camping area). Additionally many more trails can be found off Yellow Gap Rd heading into the North Mills River area. The City of Brevard also has a great trail system on Bracken Mountain that can be accessed from the National Forest.
Interested in learning more about the trails, or looking for local recommendations on the best ride for you? Connect with the local bike shops to learn more, these include the HUB and Pisgah Tavern, Sycamore Cycles, and Squatch Bikes and Brews. These bike shops also offer quality rentals from many reputable brands.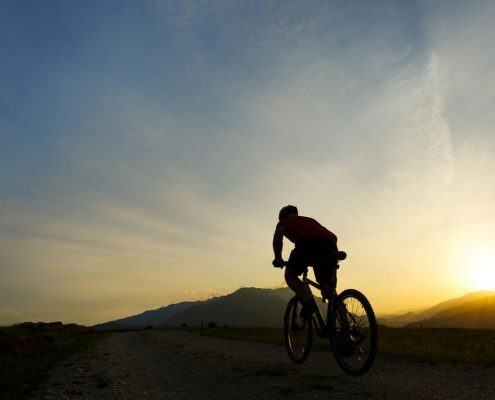 ——————————————-
Camping in the Davidson River Area
The Davidson River Campground is well known for its abundance of recreational activities, its proximity to both nature and local amenities, and its scenic views and beautiful campsites. Campers of all ages can enjoy well-shaded spaces for both RV and tent camping. There are 144 campsites that are available from April 1st to October 31st every year. Campsites include picnic tables and fire rings, plus access to hot showers and flushing toilets. Campers can also purchase ice and firewood on site.
The campground is a mere three miles from the charming town of Brevard, NC, which has a wide selection of shops, restaurants, and entertainment. In addition, Asheville, NC is less than an hour away. The campsites sit along the Davidson River, so plenty of campers enjoy swimming, tubing, and fishing in the river. The area is known as one of the best fishing destinations in the Southeast. From Sliding Rock to hiking trails to live music in Brevard, there is no end to the possibilities for campers who stay at the Davidson River Campground. There are also hospitality developments (i.e. – Pilot Cove!), restaurants, and other amenities within a short distance of the campground.
Camping fees range from $22 per day for a single site (where you can park up to two cars and include up to eight campers) to $44 per day for a double site (which accommodates up to four cars and up to sixteen campers). Electric hookups, extra vehicles, and use of the showers come at small additional fees. Because of the campground's popularity, reservations are strongly recommended, although walk-up sites can be registered on a first-come, first-serve basis.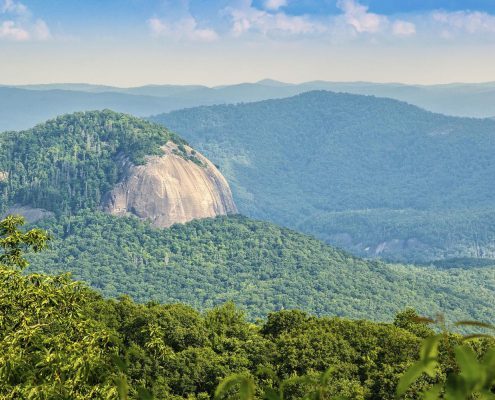 ——————————————-
Family Activities in the Davidson River Area
The Davidson River area has plenty of family-friendly activities to offer. During the summer and fall, The Cradle of Forestry offers educational and interpretive programs that teach visitors of all ages about the importance of environmental stewardship and conservation. Their programs include interactive exhibits, drama, interpretive trails, nature programs, guided tours, crafts, and more. Their season runs from April to November and is open to the public every day during that time.
In addition, to these programs there are many spots for kid-friendly swimming and tubing, and some easy beginner hiking and walking trails that everyone can enjoy. You can also try horseback riding and rock climbing, or practice your photography in the beautiful scenery.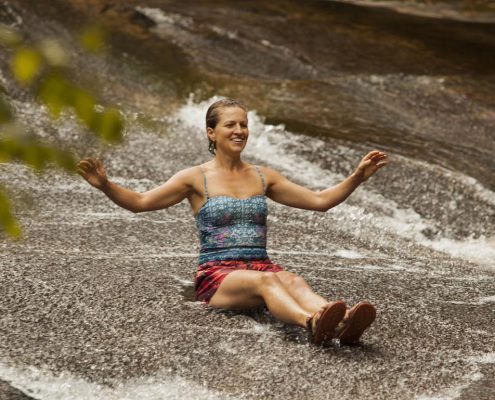 ——————————————-
Though the Davidson River Area is beautiful year-round, peak season runs from the end of March to the beginning of November. Whether you're a local who is looking for something new and exciting to do this summer, or a tourist who is looking to make the most of your time in beautiful Pisgah National Forest, the Davidson River Area is well worth a visit.

https://www.pilotcove.com/wp-content/uploads/2016/11/Pilot-Cove-Forest-Lodging-Waterfall-Hikes-Easy-For-Family-WNC-11.jpg
1000
1500
collinoberry
https://www.pilotcove.com/wp-content/uploads/2016/11/trans-logo-2.png
collinoberry
2019-05-29 10:30:37
2019-05-29 10:36:20
Davidson River | Pisgah National Forest | Visitors Guide