Guide to Trails in DuPont State Forest
DuPont State Recreational Forest, just over 15 minutes from Pilot Cove, is home to more than 10,000 acres of forest, trails, and majestic waterfalls between Brevard and Hendersonville, North Carolina. The forest offers approximately 90 miles of trails that are ideal for hiking and mountain biking. This is your guide to trails, hiking, and mountain biking in DuPont Forest.
Trail Overview
DuPont Forest's trail system includes single-track trails, double-track trails, and dirt and gravel roads. Hikers, bikers, equestrians, and leashed dogs are welcome throughout. The area has even become a leading mountain biking destination in the Southeast. Only four trails are closed to bikers and horses: Hooker Falls Trail, High Falls Trail, Triple Falls Trail, and Grassy Creek Falls Trail. Because trails are open to multiple uses, mountain bikers must exercise caution and awareness of others on the trail.
Waterfall Hikes
Hooker Falls
Length: 0.8 miles
Approximate Elevation Gain: 137 feet
The Hooker Falls trail is an easy hike popular for birding, hiking, and trail running! The short trail is family friendly and leads to attractive Hooker Falls, which drops of an 11 foot ledge into Cascade Lake. You can enjoy viewing the falls from an observation deck.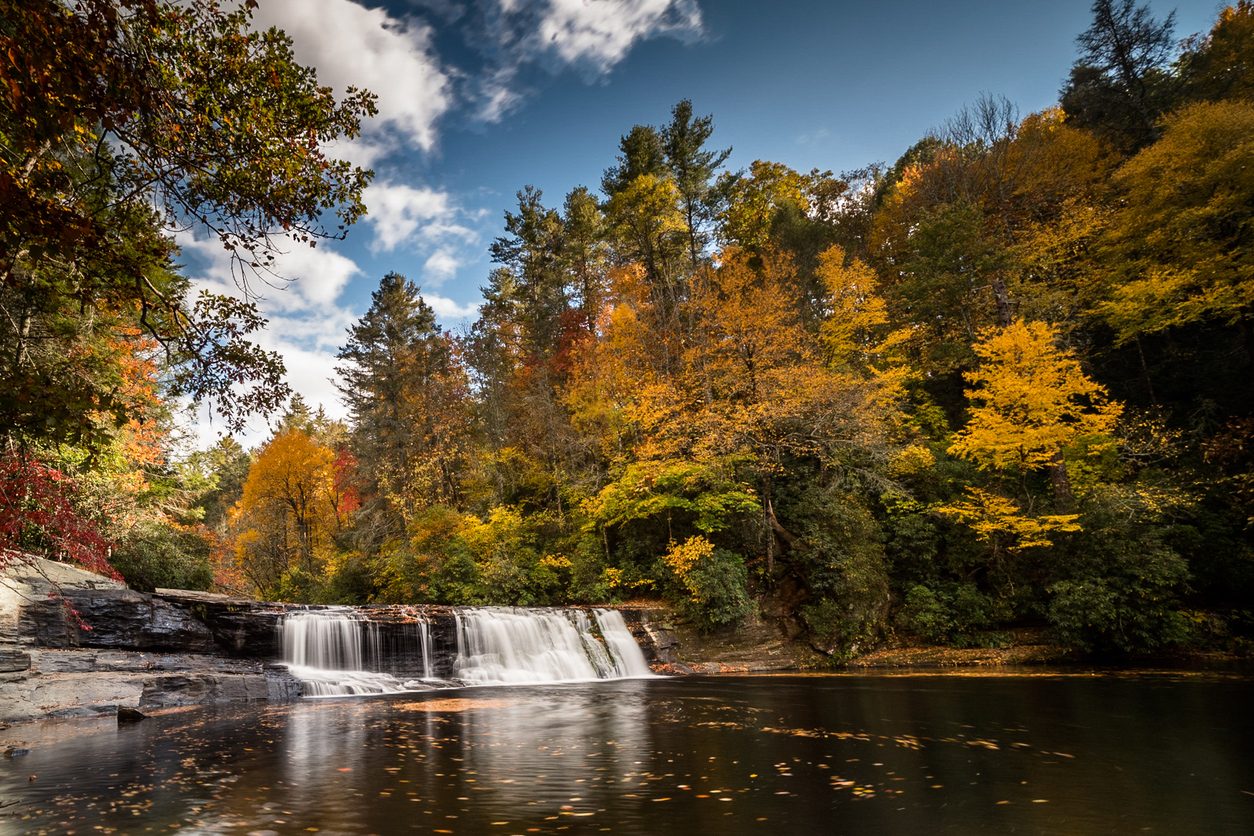 Triple Falls
Length: 2.9 miles
Approximate Elevation Gain: 439 feet
This is a very popular hiking trail in DuPont! Generally considered an easy route with just one short steeper section, this loop hike offers scenic views and a lovely waterfall. Triple Falls and High Falls are the two largest and most popular waterfalls in DuPont State Forest.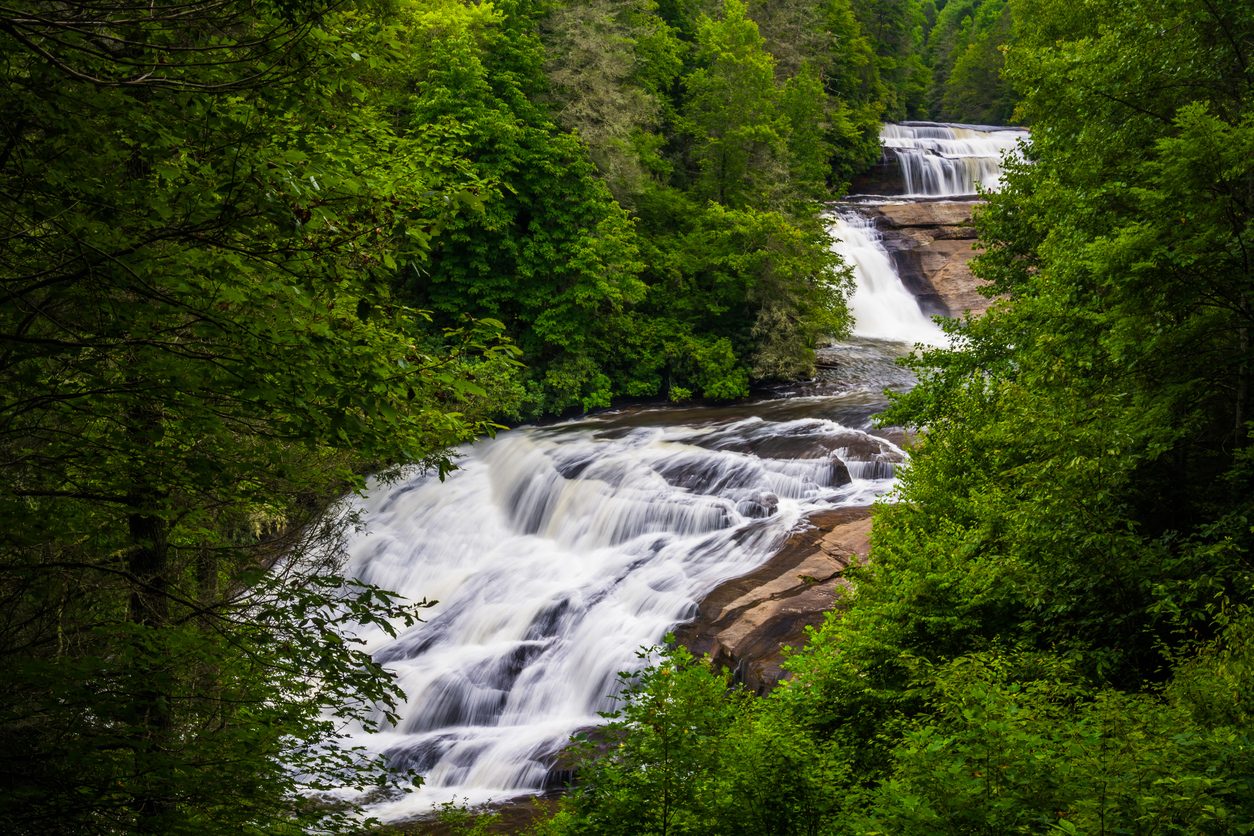 High Falls
Length: 3.3 miles (when combined with Triple Falls)
Approximate Elevation Gain: 511 feet
Add a little distance to your Triple Falls hike and get two waterfalls for just a little more distance than you'd take to visit one! Adding High Falls to your Triple Falls like will take about 15 more minutes on mostly moderate terrain. Alternately, you can reach the falls by taking a shorter walk from the High Falls Access Area.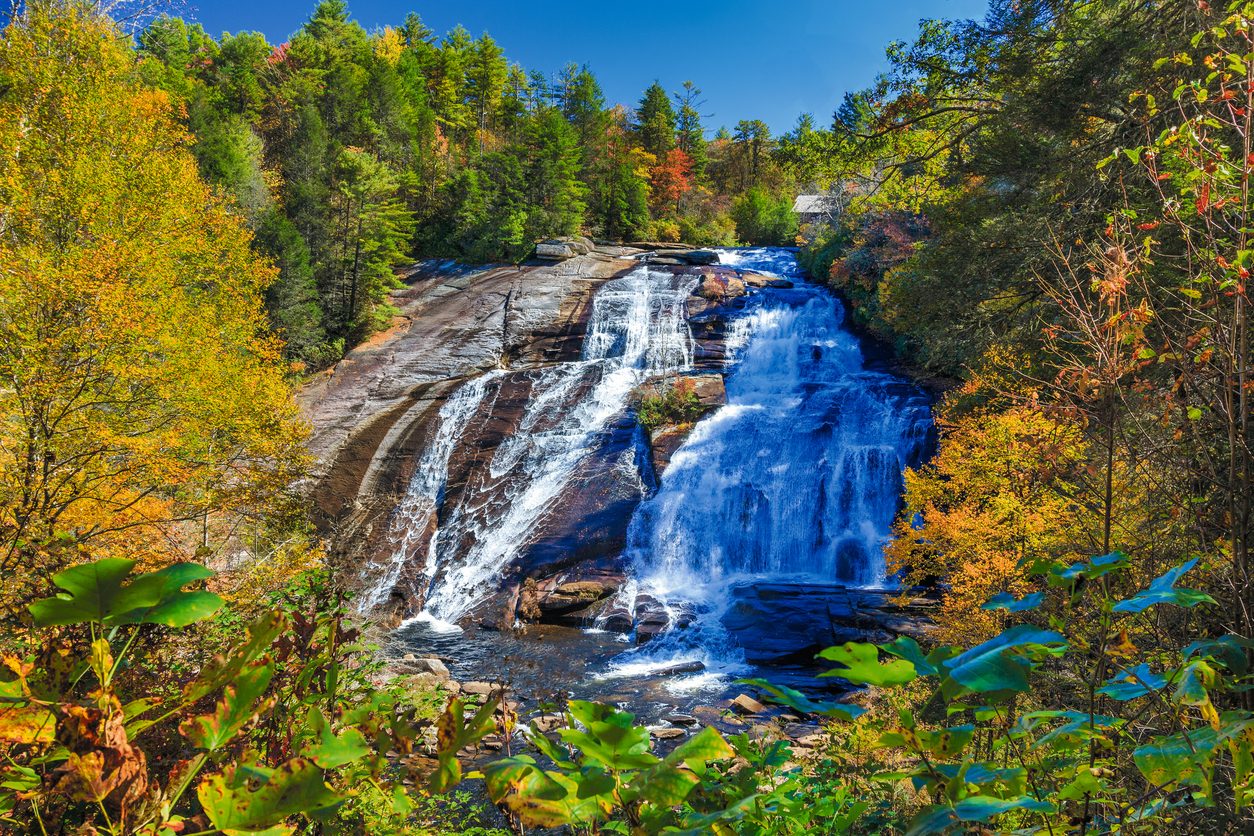 Perfect Afternoon Hikes, Horseback Riding, or Mountain Biking
Wintergreen Falls
Length: 3.1 miles
Approximate Elevation Gain: 269 feet
The Wintergreen Falls hike is generally considered an easy, if a little longer, hike. The popular trail is an out-and-back option for fun and a 20 foot waterfall sighting in DuPont Forest.
Covered Bridge and Grassy Creek Falls
Length: 2.8 miles
Approximate Elevation Gain: 351 feet
Another easy but pleasant hike on our list, this is a beautiful spot to enjoy year-round. While this trail takes you primarily along a gravel road, the covered bridge is scenic and the trail is popular and well marked.
Lake Julia
Length: varies
Approximate Elevation Gain: varies
The 99-acre Lake Julia provides multiple trail options for hiking, horseback, riding, and mountain biking. There are also picnic tables and a pier at the end of Lake Julia Road.
Hiking and Biking with a View
Cedar Rock Mountain
Length: 2.2 miles
Approximate Elevation Gain: 462 feet
This moderately challenging trail is popular with hikers and trail runners! The trail ascends to the top of Cedar Rock, offering wonderful views of Stone Mountain and the Blue Ridge Mountains. While the mountain itself is small, its exposed granite is a standout.
Corn Mill Shoals
Length: 4.1 miles
Approximate Elevation Gain: 508 feet
This out-and-back trail is popular with hikers, horseback riders, and mountain bikers. Generally considered an easy to moderately challenging trail, this hike can also be extended onto other trails. One possibility is combining it with a visit to see Bridal Veil Falls. Others enjoy taking side trips down the Little River and Nooks Trails. Be prepared for at least one water crossing!
Ridgeline Trail
Length: 7.1 miles
Approximate Elevation Gain: 784 feet
The moderately challenging Ridgeline Trail is a favorite, especially for mountain bikers. Intermediate riders may find this trail a good fit, especially with a counterclockwise route! For this reason, we suggest hikers that want to check out Ridgeline do so clockwise.
Longer Hikes and Rides
Stone Mountain
Length: 4.7 miles
Approximate Elevation Gain: 1,099 feet
The Stone Mountain hike is considered a moderate to challenging trail in DuPont State Forest, and it is popular with both hikers and bikers. Prepare to enjoy a nice view from the top and flat rocks perfect for a picnic lunch. 
Bridal Veil Falls
Length: 4.9 miles
Approximate Elevation Gain: 770 feet
This loop trail is generally considered an easy, although longer, trail in the forest. Bridal Falls is a great payoff at the end and is perhaps the most unique waterfall in the area! This trail is often frequented by bikers and hikers. Many who enjoy this trail suggest undertaking it clockwise for the best views at the falls.
********
Additional Resources:
https://www.DuPontforest.com/explore/
https://www.alltrails.com/parks/us/north-carolina/DuPont-state-recreational-forest
For up-to-date information on trail closures, visit DuPontstaterecreationalforest.com. You may also want to check out their trail map.
https://www.pilotcove.com/wp-content/uploads/2022/04/dupontforest.jpg
836
1254
collinoberry
https://www.pilotcove.com/wp-content/uploads/2016/11/trans-logo-2.png
collinoberry
2022-04-27 19:16:14
2023-05-18 11:40:07
Guide to Trails in DuPont State Forest