Fall is just around the corner, and it's one of the most spectacular times of the year throughout the mountains of Western North Carolina. With the leaf color change, cooler temperatures, crystal blue skies, and less rainfall, it's the perfect time to get out and enjoy the splendor of this magical season.
The Blue Ridge Mountains are known for providing one of the longest seasons for autumn colors in the entire country. With 6,000-foot peaks, deep valleys and many unique microclimates, the season provides more time to view these amazing colors than most other areas of the country.
If you're looking to enjoy the red, orange, yellow and brown colors of fall, Pilot Cove and Brevard offer plenty to be excited about. Here are some of the things you can expect to encounter and a few of the activities to enjoy throughout the area during the fall.
---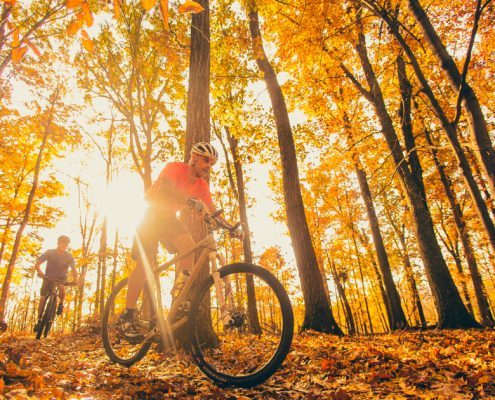 Best Times To View Fall Colors
Throughout the fall months, the leaf color change will then sweep down the mountainsides over a 4-6 week period, ending in early to mid-November in the lower valley elevations.
Everything starts in late September at the higher elevations. Near Brevard and Pilot Cove, head to the Blue Ridge Parkway to access areas over 5000'. These areas are known for the best early color for fall and it's all just getting started.
By middle October, the fall color is truly at it's peak show. The mountainsides from 3000'-5000' elevation display the widest range and scale of fall color. Vibrant reds, yellows, oranges, and more can be observed as far as the eye can see.
The final week of October is one of the best with colors changing nearly everywhere, most notably at the lower elevations. Valley locations such as the French Broad River and the Biltmore Estate are favorite spots to take in the spectacle during this time. This is also the best time to visit the towns for the color display, such as Brevard and Asheville, but it can also be a great time for hiking in the DuPont State Forest or just walking through the North Carolina Arboretum.
It's not over when Halloween comes! The first week of November will still show plenty of color with great areas for camping and hiking throughout the Brevard and Asheville areas.
Although the weather patterns could alter this schedule by a week or two, its generally easy to find great places to hike, bike, stroll and camp throughout the Brevard area and Pisgah National Forest throughout the fall season.
——————-
Get That Perfect Photograph!
Maybe your only real goal this fall is to get the perfect photograph to keep forever or to share all over social media. If this is the case, you want to hit some of the best spots for photographs, which include:
Your cabin at Pilot Cove!
Looking Glass Rock
Davidson River
Moore Cove Falls
Daniel Ridge Falls
DuPont State Forest and it's spectacular waterfalls
Gorges State Park
North Carolina Arboretum
The Blue Ridge Parkway
John Rock and Cat Gap Loop
Black Balsam Knob
Shining Rock Wilderness
Mount Pisgah area
Pisgah Center for Wildlife Education
East Fork and North Fork of the French Broad River
Mills River area
Bent Creek Experimental Forest
Black Mountain Trail
And many more! Ask us for our other favorite recommendations
Plenty of other great spots offer the perfect photograph and the closer to the end of October, the better the colors will get in most areas. The first week of November, you may even be able to catch a photograph with fall and winter colors all in one.
——————-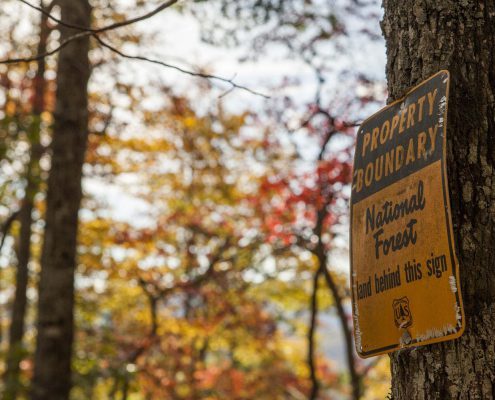 Fall Events
The events throughout the fall are also quite the attraction. There are several great choices and October is packed with festivals and great events to enjoy. We recommend referencing https://explorebrevard.com/ and www.visitasheville.com for complete event calendars.
——————-
Best Drives near Brevard and Pilot Cove for Fall Color
If you're not looking to hike or bike, you can still enjoy the incredible fall colors with one of the best scenic drives near Asheville. Many of the drives even have areas to pull over for viewing and for great pictures.
Blue Ridge Parkway
Possibly the most popular of the drives you will find, Blue Ridge Parkways offers views you simply won't find anywhere else. Take this drive slow and stop often to enjoy the best views of the mountains, the fall colors and so much more.
Forest Heritage National Scenic Byway
Another great and well-known drive; the Forest Heritage National Scenic Byway offers about 79 miles of winding road crossing the Blue Ridge Parkway twice. You'll want to take all day to complete this drive and make sure you stop at the waterfalls, the Cradle of Forestry, Sliding Rock and some of the hiking trails.
Waterfall Byway/US Highway 64
Those seeking incredible waterfalls will love this 98-mile drive through the Blue Ridge Mountains. It passes through many amazing small towns and includes a number of the best waterfalls in the area. Make sure you stop at Dry Falls and the Bridal Veil, which are two of the best roadside waterfalls on this journey.
USFS Roads
Pisgah National Forest is home to hundreds of miles of gravel US Forest Service roads. These roads offer the opportunity to take it easy and enjoy the splendor of the forest and the fall color show from within!
——————-
Tips for a Great Fall Trip
While you certainly want to get out and enjoy the incredible colors this fall, you also want to plan the perfect trip in advance! Here are just a few of the best tips to ensure you get the most out of your fall trip to Brevard, Pilot Cove, and Western North Carolina.
Plan for your Budget
If you have a tighter budget, book your stay from Sunday through Thursday. Rates usually go up for Friday and Saturday due to a higher demand. You could  also consider camping, as it will allow you to enjoy the great outdoors even more; however, campgrounds fill up quickly. At Pilot Cove we book out quickly for fall as well. We advise booking your accommodations in advance!
Blue Ridge Parkway is the Easiest Choice
If you don't want to spend forever trying to find the perfect spot or it's your first fall trip, just head to Blue Ridge Parkway. It's the easiest spot to find color for the fall. You'll find all kinds of elevations throughout with plenty of spots to see the colors.
Make sure you expect to wait and be patient as traffic will move very slowly, especially on the weekends. Just make sure you plan to stop often and take your time. Pack a picnic to keep everybody's stomach filled and you're sure to spot great colors on this journey.
Pack a Jacket
It can be a bit chilly when you get up into the mountains, even if your weather app says 70 degrees and sunny in Brevard. Make sure you have a jacket or a few layers, just in case.
Check out the Biltmore Estate
You won't want to miss this great attraction and buying your tickets in advance will save you a few bucks. If you book early, you can also get the best tour times. The Biltmore Estate has great fall colors and it's something unique you'll want to enjoy.
Don't Trust your GPS Completely
GPS is great, but when it comes to mountain roads, it's not the best. Write out your directions and take a map before you head out, just in case. Also cell phone service isn't always reliable in Pisgah National Forest!
Charge your Camera Batteries and Bring Extras
The last thing you want to do is miss the perfect photograph due to dead batteries. Make sure you have extra camera batteries and you're ready to go when the perfect picture presents itself.
——————-
While this isn't an exhaustive list of everything to do during the magical fall season, we hope it will be an informative resource to reference for ideas to craft your perfect Fall vacation. Looking for more information? Visit www.pilotcove.com to learn more, or connect with us today to discuss ideal lodging in luxury cabins directly bordering Pisgah National Forest! We can be reached at www.pilotcove.com or 1-866-PLT-COVE.