CLICK HERE FOR TICKET PURCHASE LINK
—–
 The event will run from 4:30pm until 10:00 pm, allowing attendees to enjoy live music, the film, a group bonfire, food, and great local beer throughout the beautiful Fall day.
—–
Hidden Rivers is a 1-hour film that explores the rivers and streams of the Southern Appalachian region, North America's most biologically rich waters. The film follows the work of conservation biologists and explorers throughout the region, and reveals both the beauty and vulnerability of this diverse aquatic life, and how many people are finding ways to protect it.
There is no better way to experience the Hidden Rivers films than in the heart of the Southern Appalachians at Pilot Cove. Experience local music, food, and beer with the Hidden Rivers film as the finale. Join Ecusta Brewing Company, Oxbow River Snorkeling, Pilot Cover, Pisgah Collective and Headwaters Outfitters as they host an evening to raise money for Conserving Carolina River Clean-up fund. For over 28 years, Headwaters Outfitters has been hosting river clean-ups along the Upper French Broad, and with the help community partners, sponsors and co-host, this event will provide funds to continue supporting the health and future of the French Broad River and its Tributaries.
Also, we'd live to give special thanks to Woody Platt and Shannon Whitworth for their help with the event!
—–
Please see below for more information, FAQs, and ticket link. Other questions? Email us at info@pilotcove.com!
—–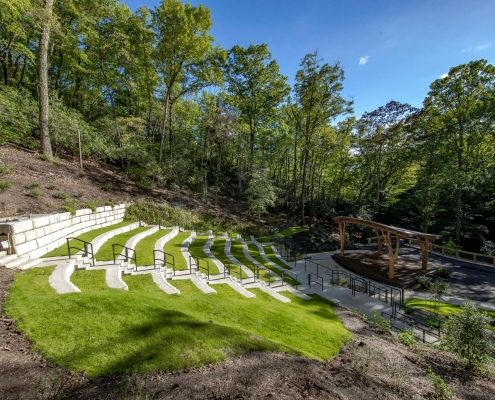 —–
When: Saturday, November 2nd, 4:30 – 10pm
Tickets: $20, and include entry, 2 sets of music, film, and a bonfire.
—–
Location:
Pilot Cove Amphitheatre, Brevard, NC
319 Gateway Junction Drive Pisgah Forest NC 28768
SEE BELOW FOR PARKING INFORMATION!
—–
Schedule:
Gates open at 4:30 pm
5:00 – 5:45 PM – Trufant Band
6:00 – 7:00 PM – Pretty Little Goat
7:00 – 7:15 PM – Panel Presentation
7:15 – 8:15 PM- Hidden Rivers Film
8:15 – 10:00 PM – Bonfire!
—–
FAQs and Important Show Information 
Pre-Show
Pilot Cove directly borders Pisgah National Forest, so concert goers are encouraged to explore the beauty of the forest in peak Fall color! Click here for an activities guide for the nearby Davidson River area.
Ecusta Brewing Company is close and a great spot for pre show beers, the shuttle to the Pilot Cove Amphitheater will also run from Ecusta. Our neighbors at The HUB and Pisgah Tavern also have a full selection of beers to enjoy, their bar closes at 6pm.
Doors for the event open at 4:30 pm.
Parking & Shuttle
CARPOOLING IS HIGHLY ENCOURAGED! There is limited parking available at Pilot Cove. Please park along the entrance road in overflow parking and walk up to the amphitheater. If parking is full, please park at Ecusta Brewing or Walmart and walk to the amphitheater. We will also be shuttling folks in the ATV, please flag us down if you need a ride.
Tickets
CLICK HERE FOR TICKET PURCHASE LINK
Tickets can be purchased at this link. Tickets will be checked at entrance to Pilot Cove, or when you get on the shuttle at Ecusta Brewing. When your ticket is checked you will be given a wristband.
Food & Water
There will be a food truck at the show! Attendees are encouraged to bring their own refillable water bottle.  Also reusable Pilot Cove bike water bottles will be for sale for $3. NO COOLERS WILL BE PERMITTED! Attendees may bring outside food and snacks, provided they are not in a cooler.
Alcohol
Beer, wine and non-alcoholic drinks will be sold by Ecusta Brewing Company. NO OUTSIDE DRINKS, ALCOHOL, OR COOLERS PERMITTED.
Overnight Stays
NO CAMPING IS PERMITTED AT PILOT COVE! Cabins for this peak Fall color weekend are nearly sold out at Pilot Cove! If you'd like to stay with us on property, we recommend booking your cabin ASAP.
Otherwise, accommodations can be found nearby at Hampton Inn, Holiday Inn Express, Davidson River Camprgound, or in Pisgah National Forest.
Chairs
Camping chairs, folding chairs, and seat cushions are permitted.
——————————
For any other questions please call 1-866-PLT-COVE or email us at info@pilotcove.com.