Winter Guide to Pisgah National Forest & Brevard NC!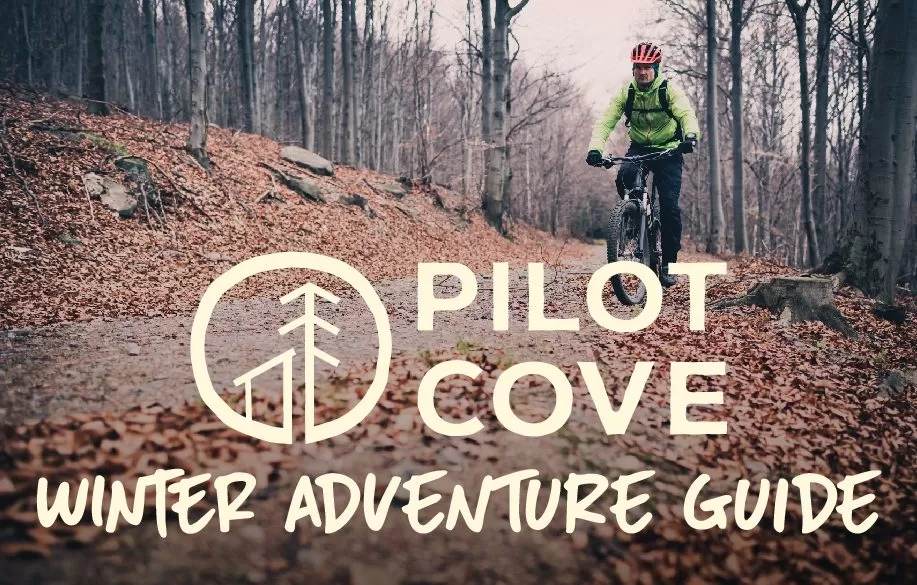 The winter season brings a wonderful mystique to the Pisgah National Forest and Brevard NC. This amazing land covering more than 500,000 acres offers incredible hardwood forests, waterfalls and plentiful trails. In fact, Transylvania County and Brevard, NC offer more than 400 miles of trails for hiking and cycling! While some areas are shut down during the winter, others offer the perfect opportunity to enjoy this incredible land enveloped in winter beauty.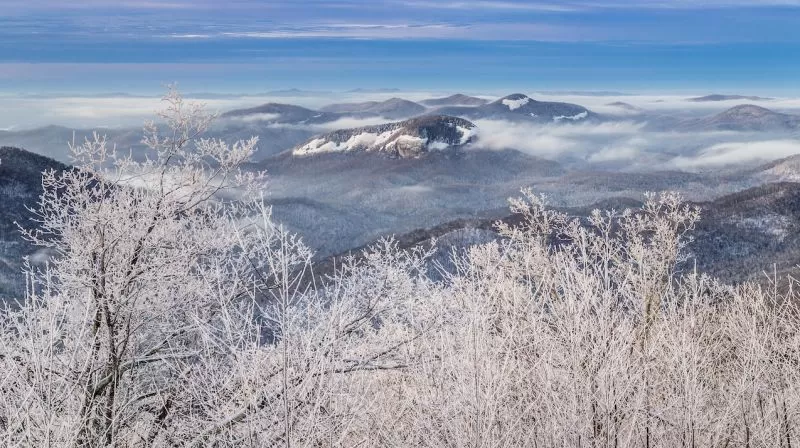 Year-Round Trails
Many of the best hiking trails in the Brevard area are found in the Pisgah National Forest. Here's a look at some of the best hiking trails for the winter found throughout Transylvania County and Brevard.
John Rock Trail (Pisgah National Forest)
A five-mile loop, this trail offers a wonderful summit found 3,320 feet up. The Cedar Rock Falls are found on the way and are easily spotted due to the leafless trees. This hike stars as the Pisgah Center for Wildlife Education and it's found about 37 miles from Downtown Asheville.
Moore Cove Falls Trail (Pisgah National Forest)
A family-friendly trail offering about three-quarts of a mile of fun, the Moore Cove Falls Trail includes an observation deck, and a beautiful waterfall. When the rocks are not icy, you can walk behind the waterfall, as well. This hike is found near the John Rock trail along the Forest Heritage Scenic Byway.
Looking Glass Rock (Pisgah National Forest)
While this hike isn't for the faint of heart, it does provide incredible 180+ degree views of the area. The trial is 6.5 miles round trip and includes climbing about 1,700 feet in elevation. It's also found close to the John Rock trail.
Art Loeb Trail (Pisgah National Forest)
The Art Loeb trail is 30 miles long and extends from the Davidson River Campground to the Daniel Boone Boy Scout Camp near Cold Mountain. This is one of the most spectacular trails in the Eastern US for scenery, traversing high peaks and ridges above treeline with expansive views in every season. In winter the access is more difficult as the Blue Ridge Parkway is closed, rewarding the brave few that make the trek with solitude and natural beauty.
South Mills River Trail (Pisgah National Forest)
This trail follows the beautiful South Fork of the Mills River for approximately 12 miles. Fly fishermen will love this trek, as there are many opportunities for private fishing holes. Additionally, there are many connecting trails in the area to create longer hike or mountain bike options. Note there are many stream crossings on this hike, so be prepared for your feet to get wet! The easiest access is to park at the Turkeypen Trailhead off Hwy 280, about 10 minutes away from Pilot Cove.
Pink Beds Loop (Pisgah National Forest)
The Pink Beds are a unique geological formation in Pisgah National Forest, encompassing a high elevation flat valley with rare mountain bogs, creeks, streams, rock formations, and endangered species. This hike is also near the Cradle of Forestry in America, where modern forestry techniques were born. This loop is relatively flat 5 mile loop hike is a great option for the family or naturalists seeking to enjoy a rare ecosystem. The easiest access for this hike is off Hwy 276 just past the entrance to the Cradle of Forestry in America.
Other great winter hiking and mountain biking trails near Brevard include:
Mountains to Sea Trail (accessed along the Blue Ridge Parkway at Hwy 276 or Hwy 215)
Davidson River Trail (Estatoe Path)
Bennett Gap Trail (great views of Looking Glass Rock!)
Gorges State Park and the Rainbow Falls Trail
Courthouse Falls (Pisgah National Forest)
Bridal Veil Falls (DuPont State Forest)
Wintergreen Falls (DuPont State Forest)
Blue Ridge Parkway Winter Access
The Blue Ridge Parkway is generally closed during the Winter months due to icy and hazardous weather conditions. Even though the Blue Ridge Parkway may be close during portions of the winter, you can still walk, cycle, snowshoe, hike or even cross-country ski on the Parkway! In fact, some of the best winter hiking with panoramic views is found along the closed Parkway.

Top Waterfalls for Winter Photography
Waterfalls are incredible during the summer and offer great opportunities for pictures. However, the winter brings a completely different type of look and feel to the waterfalls found near Brevard, NC. Some of the most spectacular waterfall photography is taken in the winter months when the trees are leafless and the views are clear. Also the waterfalls can freeze over in cold weather spells, making for a unique and breathtaking experience!
If you're looking for a great picture this winter, check out these top waterfalls found near Brevard.
Triple Falls (DuPont State Forest)
Many waterfalls are found throughout DuPont State Forest and the winter makes for a quiet time to get that perfect photograph. A three-mile hike will allow you to see and capture the Triple Falls, along with Hooker Falls and High Falls, which are all found in the DuPont State Forest. If you go another four miles, you can also capture Bridal Veil Falls.
Moore Cove Falls (Pisgah National Forest)
Moore Cove Falls is accessed from a short 3/4 mile hike off Hwy 276. The beautiful waterfall falls over a ledge with a rock outcrop formation, allowing visitors to walk behind the waterfall! In winter the falls can freeze from the bottom up, creating a unique ice formation similar to a stalagmite formation in a cave.
Cove Creek Falls (Pisgah National Forest)
The winter brings out the best for Cove Creek Falls. This beautiful cascading waterfall offers incredible photography opportunities. In addition, it's found close to Daniel Ridge Falls meaning you can hike to both in the same day for amazing pictures.
Looking Glass Falls (Pisgah National Forest)
Another great choice in Pisgah National Forest, Looking Glass Falls offers an easily accessible waterfall for winter photography. Looking Glass Falls is located directly off the road, making enjoyment easy for the entire family
Slick Rock Falls (Pisgah National Forest)
If you can catch Slick Rock Falls after a bit of extreme cold weather, you may be able to capture a picture of the falls frozen in motion. However, if it's not quite as cold, you may be able to hike behind the cascade and check out the incredible ice formations.
A few other great waterfalls for winter photography include:
Whitewater Falls (Nantahala National Forest)
Panthertown Valley (many waterfalls!)
Estatoe Falls (Private property yet accessible)
Courthouse Falls (Pisgah National Forest)
Sliding Rock (Pisgah National Forest)
Rainbow Falls and Turtleback Falls (Gorges State Park)
Since the trees don't have any leaves, the photography options become more plentiful during the winter at these waterfalls near Brevard. In addition, the snow and ice can make for incredible pictures.
Amazing Sunsets and Sunrises
While the waterfalls alone are enough for a great photograph, you won't want to miss out on the incredible sunsets and sunrises during the winter. This season of the year may be the absolute best for viewing the sunsets and sunrises.
The main reason the sunsets and sunrises are so amazing in the winter has to do with the crisp, clear air. During the summer, the air circulation is more sluggish, which causes a haze and keeps the sunset and sunrise from becoming as vivid as they are in the winter. The winter season offers a clear and cold air at the dawn and twilight hours, which causes the more vibrant colors.
In addition, the Brevard area isn't nearly as crowded during the winter, which makes for a peaceful time to enjoy the sunrise and sunset.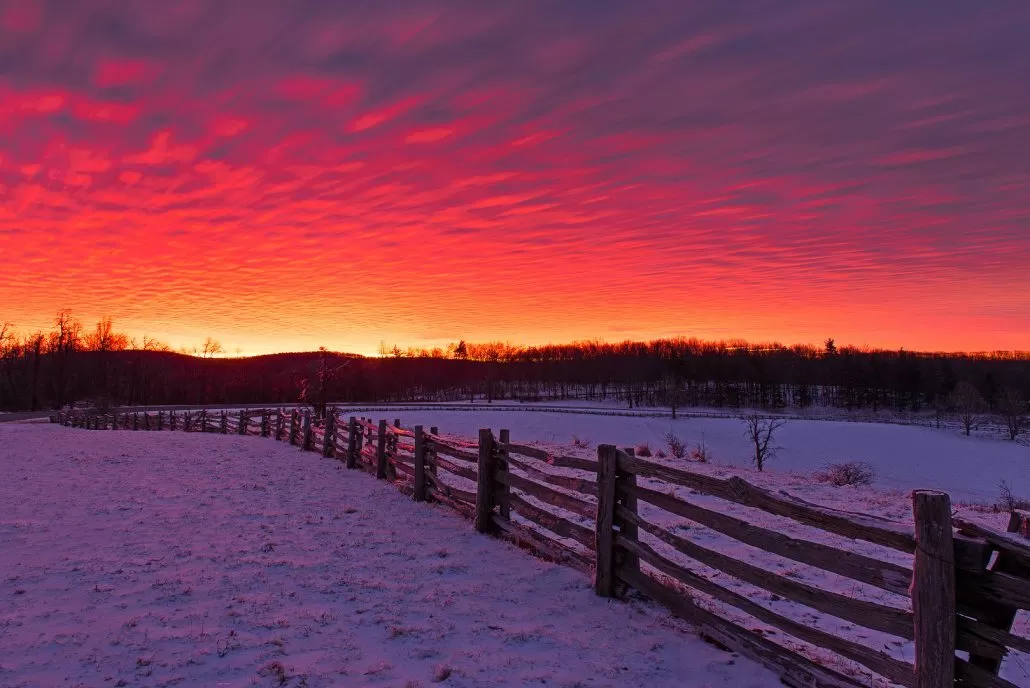 Five More Reasons to Visit Brevard NC and Pilot Cove During the Winter
If the hikes, waterfalls and amazing winter photography options aren't enough, here are a few more great reasons to visit the Brevard area and Pisgah National Forest during the winter months.
The darker skies make for incredible sky watching.
Less crowded trails! Mountain bikers will rejoice at the splendid riding and solace they find without the crowds.
Fewer people on routes making for great rock climbing opportunities.
Skiing is available within 1.5 hours at Wolf Ridge in Mars Hill and Cataloochee in Maggie Valley.
Less of a crowd at the area shops, restaurants and breweries.
Many visitors come to the Brevard area during the summer and fall seasons. However, the winter may be one of best "secret" times to visit. If you want to keep away from the crowds, enjoy incredible views without leaves on the trees and capture some of the most amazing pictures, the winter is the ideal season to visit Brevard, NC and the Pisgah National Forest.
Are you looking to book your Winter getaway to Brevard NC and Pisgah National Forest? Whether you are looking for an adventure, some rest and relaxation, or both, Pilot Cove offers the perfect affordable luxury accommodations for your vacation. Pilot Cove shares a ~1 mile border with Pisgah National Forest, offering the closest accommodations you can possibly find to the forest entrance without camping. Position yourself in the ideal location with the nicest accommodations! More information can be found on our lodging page, or by contacting us at info@pilotcove.com or 1-866-758-2683.
Also Pilot Cove is running a promotion for the January and February winter months. If a guest books 3 nights, then the 4th night is free! More info can be found here.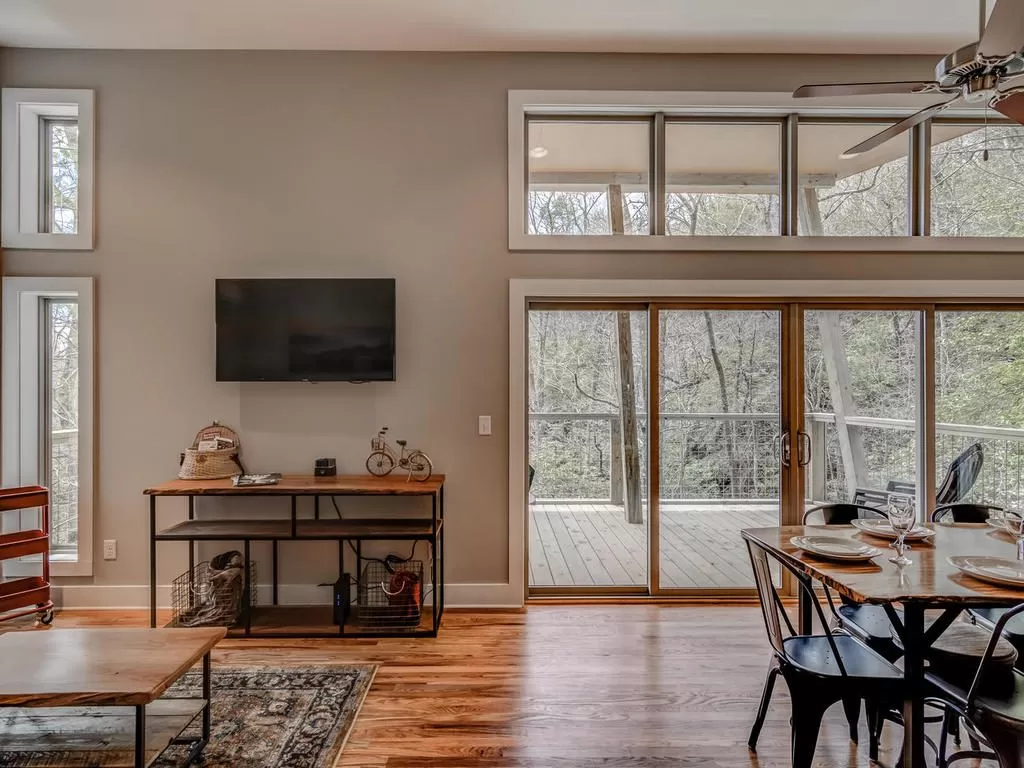 https://www.pilotcove.com/wp-content/uploads/2018/01/Pilot-Cove-Winter-Adventure-Guide-01-1.jpg
585
917
collinoberry
https://www.pilotcove.com/wp-content/uploads/2023/10/PC_logo_100_2x.png
collinoberry
2018-01-08 09:27:09
2023-10-16 13:55:51
Winter Guide to Pisgah National Forest & Brevard NC!