Pilot Cove Amphitheater is a magical place to experience live music, and we are excited to announce our 2022 Second Saturdays concert series! We've teamed up with our friends at EchoMix Entertainment to curate a talented lineup of bands and musicians to rock the Pilot Cove Amphitheater from May through September! These events are sure to be a fun experience for your family and friends alike.
See below for info on tickets and season passes, the series lineup, the scene, location, food and drinks, overnight stays, pre-show fun, COVID guidelines, and more!
TICKETS
Get your tickets here! Tickets will be checked at the entrance to Pilot Cove. When your ticket is checked you will be given a wristband.
MUSIC
July 9 – Dead From The Road
August 13 – Reggae Ska Dance Craze
September 10- Hometown Throw Down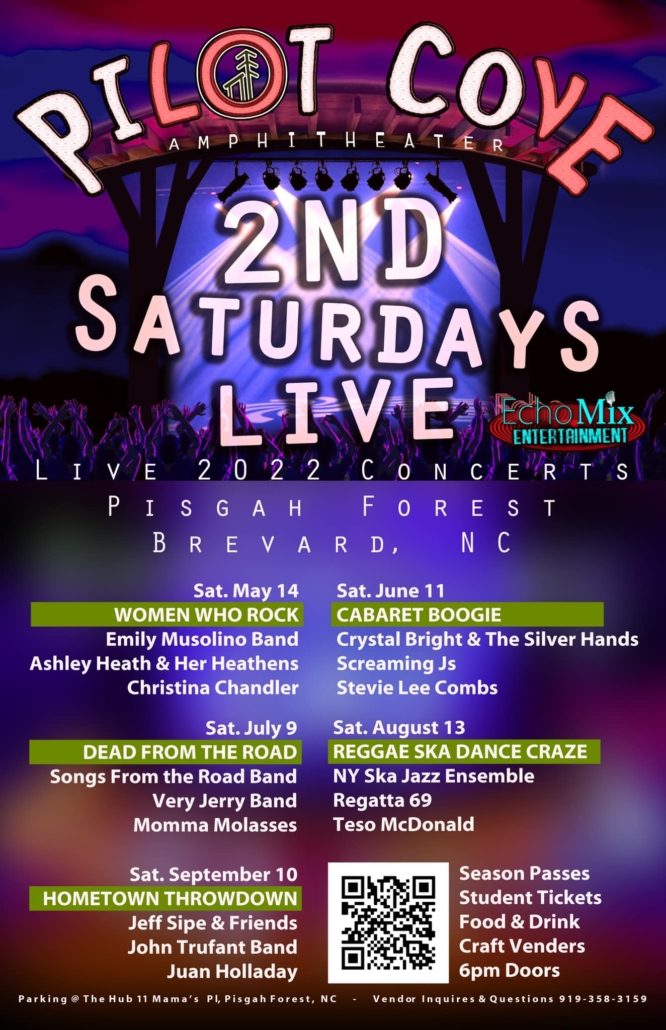 SCENE
Each act will bring its own brand of raw power to the beautiful 300-seat Amphitheater tucked into Pisgah Forest. This evening will also include local beer vendors, food, craft tables, and incredible scenery.
LOCATION
Pilot Cove Amphitheatre, Brevard, NC
319 Gateway Junction Drive, Pisgah Forest NC 287683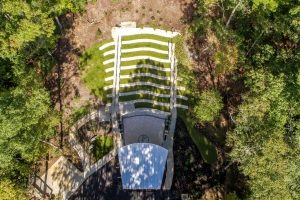 FOOD & DRINKS
There will be a food truck at the show! Attendees are encouraged to bring their own refillable water bottles. Reusable Pilot Cove bike water bottles will be for sale for $3. NO COOLERS WILL BE PERMITTED! Attendees may bring outside food and snacks, provided they are not in a cooler.
Beer, wine, and non-alcoholic drinks will be sold by Ecusta Brewing Company. NO OUTSIDE DRINKS, ALCOHOL, OR COOLERS PERMITTED.
OVERNIGHT STAYS
NO CAMPING IS PERMITTED AT PILOT COVE! Cabins for rent at Pilot Cove are sold out for the weekend, but accommodations can be found nearby at Hampton Inn, Holiday Inn Express, Davidson River Campground, or in Pisgah National Forest.
PRE-SHOW
Pilot Cove directly borders Pisgah National Forest, so concert-goers are encouraged to explore the beauty of the forest! Click here for an activities guide for the nearby Davidson River area.
Ecusta Brewing Company is close and a great spot for pre-show beers. Our neighbors at The HUB and Pisgah Tavern also have a full selection of beers to enjoy; their bar closes at 6:00 pm.
Doors for the show open at 6:00 pm.
CHAIRS
Camping chairs, folding chairs, and seat cushions are permitted.
COVID GUIDELINES
Proof of COVID-19 Vaccination or negative test will not be required for entry. However, we encourage social distancing. Please do not attend if you are feeling unwell or experiencing symptoms of COVID-19.