FUTUREBIRDS Teamwork Retreat
Three days of music featuring a lineup curated by the Futurebirds!
—–
CLICK HERE FOR TICKET PURCHASE LINK
We are excited to partner with our friends from the Futurebirds to bring you three excellent days of music over Labor Day weekend! The band is excited to announce this event in conjunction with the release of their new album,
Teamwork
. Additional act announcements are to come, with each act being personally selected by the Futurebirds. Beer will be provided by our neighbors at Ecusta Brewing Company, and a food truck will be on site throughout the weekend.
—–
Stay tuned for more information to come over the next few months! Also please see below for more information, FAQs, and ticket link. Other questions? Email us at info@pilotcove.com!
—–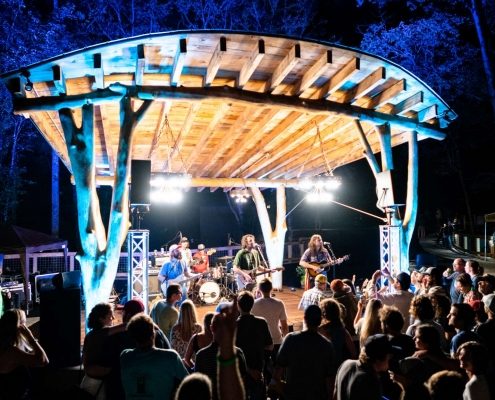 —–
When: September 4-7, 2020
Tickets: More info coming on weekend passes!
Tickets are also available as a bundle purchased through the band
—–
Location:
Pilot Cove Amphitheatre, Brevard, NC
319 Gateway Junction Drive Pisgah Forest NC 28768
SEE BELOW FOR PARKING INFORMATION!
—–
Lineup (starting with headliner):
FUTUREBIRDS!
The music is a patchwork amalgam of influences, including: twangy Southern rock (they've opened for the Drive-By Truckers), reverb-soaked psychedelia reminiscent of early My Morning Jacket or fellow Athens residents Phosphorescent, soaring guitar solos à la Neil Young and Crazy Horse, rhythmic jangle from that other Athens band, REM, multi-part vocal harmonies (which every band ought to have, dammit), and, weaving through it all, lyrical slide guitar.
– Vox.com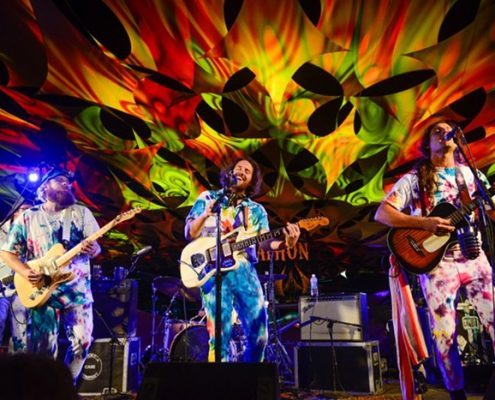 Full lineup with more bands to be announced soon! Expect a lineup of first-class musicians personally selected by the Futurebirds.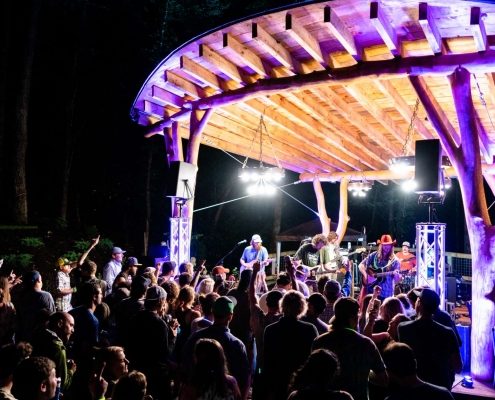 FAQs and Important Show Information 
Show Schedule
The full lineup, show schedule, and more event information will be released closer to the event time. Expect an excellent lineup of musicians personally selected by the Futurebirds for your enjoyment!
Pre-Show
Pilot Cove directly borders Pisgah National Forest, so concert goers are encouraged to explore the beauty of the forest! Click here for an activities guide for the nearby Davidson River area.
Ecusta Brewing Company is close and a great spot for pre show beers, and a shuttle to the Pilot Cove Amphitheater will also run from Ecusta. Our neighbors at The HUB and Pisgah Tavern also have a full selection of beers to enjoy, their bar closes at 6pm.
Parking & Shuttle
There is limited parking available at Pilot Cove, and it will fill up early. A shuttle will run from Ecusta Brewing Company. Please park at Ecusta Brewing Company, or at Wal-Mart and walk to Ecusta Brewing Company. Aside from walking to the Amphitheater (1/3 mile from the HUB), the shuttle will be the only way in to the show. More information on the shuttle will be released closer to the show dates.
Tickets
CLICK HERE FOR TICKET PURCHASE LINK
Tickets can be purchased at this link. Tickets will be checked at entrance to Pilot Cove. When your ticket is checked you will be given a wristband.
Food & Water
There will be a food truck serving great food at the show! Attendees are encouraged to bring their own refillable water bottle.  Also reusable Pilot Cove bike water bottles will be for sale for $3. NO COOLERS WILL BE PERMITTED! Attendees may bring outside food and snacks, provided they are not in a cooler.
Alcohol
Beer, wine and non-alcoholic drinks will be sold by Ecusta Brewing Company. NO OUTSIDE DRINKS, ALCOHOL, OR COOLERS PERMITTED.
Overnight Stays
NO CAMPING IS PERMITTED AT PILOT COVE! Pilot Cove cabins for the event are available as a package purchased through the Futurebirds. We will not be booking cabins directly to guests, they must be purchased through the band. We're excited to partner with the band to help them raise funds for their new album and musical growth! More information about Pilot Cove cabin bundles can be found at this link.
Otherwise, accommodations can be found nearby at Hampton Inn, Holiday Inn Express, Davidson River Camprgound, or in Pisgah National Forest. Many of these accommodations are walking distance from Pilot Cove.
Chairs
Camping chairs, folding chairs, and seat cushions are permitted.
——————————
For any other questions please call 1-866-PLT-COVE or email us at info@pilotcove.com.